Let's Sum It Up!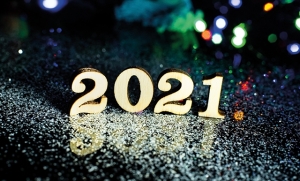 Op-Ed
The global background against which Georgia lives and works is too spacious and imposing, compared to which this small country is just too small and too quiet. Yet, it still makes sense to have a brief and casual look at what has happened to us in 2020, and to the world that has something to do with us. And the world has been consumed with a rampant pandemic, looking at the Creator with scared and prayerful eyes, in desperate search of a way out of the lethal malady.
Georgia is as preoccupied with it as the rest of the planet, suffering the horrible consequences of the infection as any other nation on earth. People are dying in droves, and death is turning into a daunting routine that quickly started being taken for granted by us all.
The disease has caused social and economic commotion, hitting almost every country worldwide with public upheavals, business lockdowns and stock market crashes. In principle, the world has not known an economic disruption of this magnitude since the well-known pre-war Great Depression of the bygone 20th century.
The calamities have not ended there: tropical cyclones, the disastrous effects of climate change, wildlife on fire in Australia and the US, and other mishaps of the sort, have hit hard life on our troubled planet. Thank God, we have not felt in Georgia much of those blows from our Mother Nature. Moreover, we have done our-level utmost to handle this rigid medicinal limbo, so that the country goes on, not yet having run out of food, fuel, electricity, or, most importantly, the human energy to survive, although Georgia is not the richest country in the world, suffering from a myriad almost unsolvable problems.
At the same time, political bouts and geopolitical quakes have not stopped around the world, some of them turning into a factual threat to regional or even global security. For instance, Georgia's most dedicated and helpful strategic partner, the United States of America, has been going through unheard-of fits and starts in its democratic process, leaving the impression that not all is in the finest order in the world leader's overall political life and centuries-old constitutional order: from the sitting President's shocking impeachment, to the allegedly rigged elections.
Coincidentally, Georgia's political tissue is going through the same painful allegations of distorted electoral results so badly that the losers have forfeited their appetite for a political struggle within the existent legal framework, practically turning the Georgian parliament into a mono-partisan political system. There is one big difference, though, between the Georgian and American electoral situations: in Georgia, it is the opposition that protests the outcome of elections, which sounds natural for an oppositional political force, thus the fraud is less believable. In America, it is the current government that wants to overturn the elections, almost recognizing that the governmental system they are running is catastrophically faulty, which sounds preternatural for a functioning administration, thus the scam is more believable.
On a softer level, the world had its ears perked and eyes open when his Royal Highness Prince Harry and her not very Royal Excellency Meghan Markle quit Her Majesty the Queen's regal caboodle for a layman's life. There was no significant popular reaction to this in Georgia, because we must have had our own headaches to sooth.
It was also notable that the film 'Parasite' swept all possible Oscars, but because of the pandemic, we could not enjoy a chance in Georgia to watch it on the big screen as we used to do in happier times, so this outstanding cinematographic event of true international importance went by almost unnoticed.
And on a sadder note, the shining basketball star Kobe Bryant's death shocked the entire world and Georgia too, proving the tradition of a sporting life and rooting for remarkable athletes is still alive.
Georgia is currently going through a series of pungent political battles between various political forces for a better place under the sun. However, this is not exactly news for us, watchers of the arena. This has been our political lifestyle in the last thirty years. We probably need more time for actual political maturation, and to acquire a sharper eye to see through the mist made by the 'combat powder,' and to catch what is better for the people of Georgia. With any luck, all our hopes and dreams are set to come true in the approaching Happy New Year.
By Nugzar B. Ruhadze
24 December 2020 19:34