Trump's Impeachment Case to be Handed over to the Senate on Monday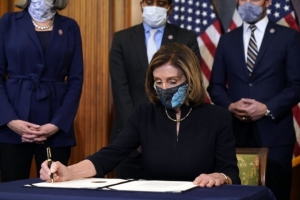 The Speaker of the US House of Representatives, Nancy Pelosi, plans to hand over the impeachment case of Donald Trump to the Senate on January 25. While The House will transmit the impeachment article on Monday to the Senate, Trump's impeachment trial has been delayed for two weeks, by the decision of the Senate, and will start on February 8.
Senate Majority Leader Chuck Schumer said on January 22 that the "impeachment trial will be full and fair" and that "the Senate will hear the case and vote on a verdict against the president."
Trump, the first president to face the impeachment trials twice, and the first to be considered for impeachment after leaving office, flew to Florida at the end of his term, hours before President Joe Biden arrived in the White House, defying the tradition of the former president attending the inauguration of his successor.
The reason for Trump's second impeachment is inciting a mob attack on the Capitol. Five people were killed in the January 6 attack by pro-Trump protesters. Violence erupted in Washington after Trump repeatedly declared without proof that the November 3 election was "rigged." Dozens of his appeals have been rejected in various U.S. courts.


By Nini Dakhundaridze

Image source: AP News
23 January 2021 02:07