MEPs Concerned by Unethical Incident at Georgian Parliament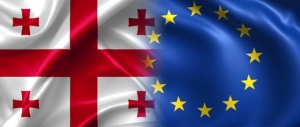 Members of the European Parliament have sent a letter to the Speaker of the Parliament of Georgia Archil Talakvadze.
In the letter, MEPs respond to the announcement of the phone number of Nika Gvaramia, the General Director of the Main Channel, by Tea Tsulukiani, a member of the majority, noting that "it is very unpleasant and unethical when the fundamental right to privacy is carelessly breached."
In addition, MEPs are surprised that Tea Tsulukiani asked for a justification from EU Ambassador to Georgia Carl Hartzell over the assessment of the incident.
"Dear Mr. Talakvadze,
"When your colleagues from the newly elected Georgian parliament visited Brussels around a week ago, they presented a very ambitious goal of applying for EU membership in 2024. We kindly reminded your colleagues that ambitious political goals require equally ambitious democratic standards.
"To mitigate the dangers of the current political crisis imposed on still unconsolidated Georgian democracy, for sake of your country's interests, we, international friends of Georgia, have been calling on your political opponents to assume their mandates while expecting everyone to stop personal attacks and eschew polarising language.
"Given that, it is regrettable, very unpleasant, and unethical when the fundamental right of privacy is carelessly breeched in the walls of your institution. It is equally regrettable and simply in bad taste when the EU ambassador's accurate assessment of the events prompts a request of justification from your colleagues.
"Ambassador Hartzell, who during the last months has spared no efforts in making sure that Georgia has a functioning, pluralistic and democratic Parliament, does not merely express "his personal opinion" but voices those fundamental EU values that your country also claims to aspire to.
"In the interest of Georgia as a whole, it is imperative for all political parties to act in good faith and reinvigorate honest efforts in search of a political solution. In this process, there should be no place for polarising language, personal attacks, and inciting harassment. It is your mandate as a Chairperson of the Parliament to ensure a high level of decorum in the plenary hall, which will allow for constructive debates and effective oversight on legislation.
"We hope soon to see a transparent and pluralistic Parliament just like Georgian voters intended it to be," reads the letter signed by Viola von Cramon, Sven Mikser, Andrius Kubilius, Markéta Gregorová, Michael Gahler and Petras Auštrevičius.
By Ana Dumbadze
Related Story: Nika Gvaramia: Making My Tel Number Public Was Insidious & Criminal
05 February 2021 19:00