NATO Sec. General: Ukraine, Georgia our Highly Valued Partners in Black Sea Region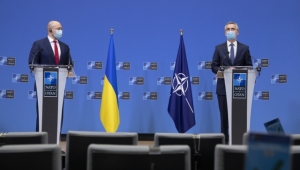 "I think we have to understand that the Black Sea is of strategic importance for NATO and NATO allies, our littoral states, Turkey, Bulgaria and Romania, and then we have two close and highly valued partners in the region: Ukraine and Georgia," stated NATO Secretary General Jens Stoltenberg at a joint press conference after the meeting with the Prime Minister of Ukraine Denys Shmyhal.
Stoltenberg pointed out that NATO has increased its presence in the Black Sea region and strengthened its support for Georgia and Ukraine, including by providing assistance to their maritime forces.
"We are constantly looking into the need to adjust our presence there and because we need to make sure that there is no doubt that the Black Sea is something which is not dominated by one country, Russia, but actually, where we see freedom of navigation, and international law applies," stated Stoltenberg.
"NATO has increased its military presence in the Black Sea region, because we recognize the great strategic importance of this region for all NATO allies but also of course for our close partner, Ukraine," he noted.
By Ana Dumbadze
Source: nato.int
10 February 2021 14:28