Parliament Approves Cabinet Headed by Giorgi Kvirikashvili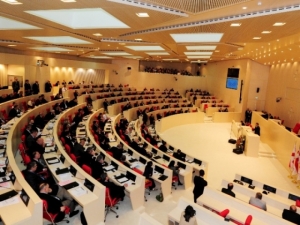 The Parliament of Georgia approved the new government to be headed by the new Prime Minister of Georgia, Giorgi Kvirikashvili.
Eighty-six MPs voted in favor of the government, while 28 were against. The United National Movement and the Free Democrats did not support the decision.
During the extra parliamentary session yesterday, Giorgi Kvirikashvili declared that they have established a new culture in Georgian politics, demonstrating how a government should act in accordance with its population's interests.
Kvirikashvili named health reforms and others as an achievement of his government, adding, "we can name more examples but the main thing is that the government listens to its voters."

According to the PM, the government should be an example of equality before law. "Kvirikashvili declared that equality before the law must be established and the governmental members as well as representatives of their families are particularly responsible for it." He said it is important to improve an open and efficient governance.

The new head of the government also stated that very strict regulations must be imposed on internet casinos.
Although the new PM's announcement about possible changes in the Cabinet, the Cabinet members remain unchanged, except for the Foreign Minister, recently occupied by Mikheil Janelidze.
30 December 2015 16:06