Foreign Minister: European Integration Part of National Identity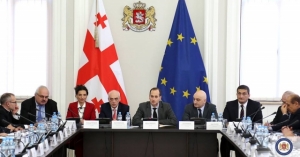 Georgian Foreign Minister Mikheil Janelidze received representatives of the diplomatic corps accredited in Georgia and spoke about the importance of Georgia's integration with the European Union.
"It is not just a core foreign policy priority of Georgia, but has become a part of our national identity, because of the sense of belonging to the European system of values," the Minister said about the integration process.
According to Janelidze, the Georgian people believe that secure, stable and democratic development of the country can only be assured within the European and Trans-Atlantic area.

The MFA says special attention was paid to the restoration of Georgia's territorial integrity, as the main challenge facing the Georgian Government, and in this context, the importance of Georgia's constructive participation in the Geneva International Discussions. The Minister also spoke about the need of confidence-building and engagement of the international community in the process of reconciliation with Abkhazians and Ossetians.

According to the MFA, Mikheil Janelidze highlighted the successes achieved in the course of 2015, including the Association Agreement signed with the EU, which involves DCFTA, the European Commission's positive assessment of the Visa Liberalization Action Plan of Georgia in its final progress report, and the NATO-Georgia Joint Training and Evaluation Center, which a significant step forward.

Mikheil Janelidze identified economic diplomacy as one of the ministry's top priorities. He emphasized that Georgia has the potential of being turned into a hub linking Europe with growing East Asian markets. In this context the Minister spoke about the importance of the revitalization of the historic 'silk road'. The Silk Road Forum held in Tbilisi in 2015 served this very goal. The Forum contributed to the deepening of cooperation of the Silk Road countries in the fields of transport, communication, infrastructure, trade, energy and industry.
16 January 2016 13:01