US Senate Representatives Reaffirm Unwavering Support for Georgia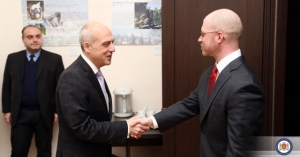 Georgia's First Deputy Foreign Minister met with professional staff members of the U.S. Senate Foreign Relations Committee yesterday.
The discussion between Davit Zalkaliani, Ben Purser and John Rader, focused on the ongoing cooperation within the framework of strategic partnership between the two countries. The Foreign Ministry (MFA) says the participants of the meeting positively appraised the work that has been performed in all the four priority areas identified in the U.S.-Georgia Charter on Strategic Partnership, and expressed the hope that fruitful cooperation within the framework of the U.S.-Georgia Strategic Partnership Commission will further continue. "Special attention during the meeting was paid to the need to further strengthen cooperation with the U.S. Congress."

As the MFA states, the sides also discussed the security situation and challenges facing Georgia and the region as a whole, including the current situation in Georgia's occupied territories. The parties also highlighted the challenges to the process of Georgia's European and Euro-Atlantic integration and the results achieved in this regard. "Special mention, in this light, was made of the importance of the support of Georgia's strategic partner."

According to the Ministry, the parties underlined the need to deepen bilateral cooperation in all important areas of the strategic partnership. Ben Purser and John Rader reaffirmed the U.S. Government's firm support for Georgia's sovereignty and territorial integrity, European and Euro-Atlantic integration, democratic reforms and economic development.
19 January 2016 14:39