Energy Minister: Gazprom Presented Ultimatum to Georgia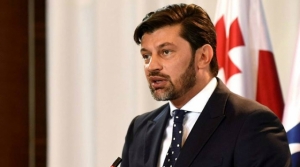 Georgia's Energy Minister Kakha Kaladze stated on Rustavi 2 yesterday that Gazprom had presented an ultimatum to Georgia.
According to the Minister, the Georgian side was categorically opposed to the Gazprom ultimatum, that the price for the transited gas be paid by money instead of by natural gas. As Kaladze stated, otherwise, the company indicated that they would import Iranian gas through Armenia.
"You know that today 10% of the conveyed volume of gas is given to Georgia. However, Gazprom has presented an ultimatum to move to financial payment. This was news for us. We categorically objected to this, though they directly indicated that they can import Iranian gas through Armenia. There really exists a danger and its consequences will be very grave for us," Kaladze stated.
Kaladze continued that the next round of Gazprom talks will be held in Austria and the public will be informed of the details after the completion of the negotiations.
"I will try to bring the results that will be acceptable and important for our country and our industry. After the meeting, I will provide you with the details," Kakha Kaladze declared, adding that no increase in gas price is expected.
Yesterday Rustavi 2's Talk Show "Archevani" (The Choice) invited experts and former senior officials to debate the Gazprom issues, that has been a topic of wide concern for the Georgian society. Georgian civil society organizations, for the third time within the last four months, organized a massive public rally Saturday against the secret negotiations with Gazprom.
20 January 2016 12:37