EU Commissioner Calls Georgia's Effort Impressive in Implementing AA Deal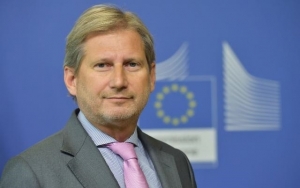 The European Union (EU) Commissioner for Neighbourhood Policy and Enlargement Negotiations, Johannes Hahn, stated he believed that Georgia has made "impressive efforts" to implement the Association Agreement (AA) signed with the European Union in 2014.
At the debate in the European Parliament regarding the implementation of the Association Agreement, which included the Deep and Comprehensive Free Trade Area (DCFTA) by Georgia, Ukraine and Moldova, EU High Official stated that the results are already visible due to the strong growth in foreign direct investment.
"Other indicators also show promising signs, the visa liberalization action plan has proven to be an effective tool for promoting a range of reforms, but Georgia has gone beyond the Action Plan benchmarks and taken further steps to reform the judiciary, as well as the Prosecutor's Office," Hahn stated.
The EU Official emphasized that the EU will continue working to provide Georgia with a finished visa liberalization process as soon as possible.
Debates on the implementation of the Association Agreement by Georgia, Ukraine and Moldova have been held on the plenary session of the European Parliament from January 20th-21st.
MPs have expressed their own views assessing the progress achieved by the three countries in terms of conducting reforms.
Member of the European Conservatives and Reformists Group Anna Elżbieta Fotyga has declared that Russia still represents a factor of destabilization for Georgia, Ukraine and Moldova. She has supported the countries' efforts adding that visa-free travel should be imposed very soon.
21 January 2016 20:58