OSCE Delegation in Georgia Meets Head of the Government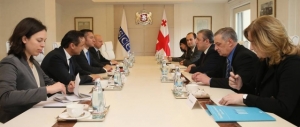 Head of the Georgian Government Giorgi Kvirikashvili has met with the OSCE Parliamentary Assembly delegation to discuss the upcoming annual session of the Assembly, political environment in Georgia and the 2016 parliamentary elections.
The 25th session of the OCSE Parliamentary Assembly will be held in Tbilisi on July 1st – 5th 2016.
Parliamentary delegations from more than 50 states, around 700 politicians, will attend the event in the summer.
Head of the delegation, Kristian Vigenin and Secretary General of the OSCE Parliamentary Assembly Roberto Montella discussed the breakaway Abkhazia and Tskhinvali regions and the conflict resolution processes with the Georgian Prime Minister. The OSCE Parliamentary Assembly's delegation reaffirmed its support of the territorial integrity of Georgia.
Parties discussed Georgian-Russian relations and political processes taking place in Georgia as well as preparatory works for the 2016 parliamentary elections. The members of the delegation hope that the elections will take place in an open and transparent environment, as prescribed by international standards.
27 January 2016 11:46