Political Issues Discussed at the MFA Meeting with OSCE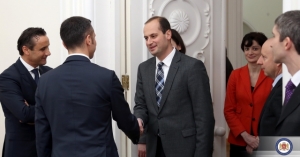 Georgian Foreign Minister Mikheil Janelidze has met with Kristian Vigenin, the Head of the delegation of the OSCE Parliamentary Assembly (PA).
The Foreign Ministry (MFA) stated at the meeting on Tuesday Vigenin reaffirmed the OSCE's support for Georgia's sovereignty and territorial integrity pledging that the organization will continue its active and constructive engagement in the Geneva International Discussions.
According to the MFA, the two parties attending devoted special attention to the situation in the occupied territories underlining the importance of maintaining the positive dynamic that has been generated in the Geneva process.
The parties also discussed the preparations for the 25th session of the OSCE Parliamentary Assembly.
Talking points also included the forthcoming parliamentary elections in Georgia. Janelidze reaffirmed the readiness to receive international observers to ensure the transparency of the elections.
From his side the OSCE official appreciated the progress that Georgia has recently achieved in terms of conducting elections, adding that the OSCE PA together with the ODIHR will be broadly represented at the parliamentary elections.
Photo credit: MFA Georgia
27 January 2016 13:23