Georgia's Defence Ministry Officials Suspended Over Central Africa Accident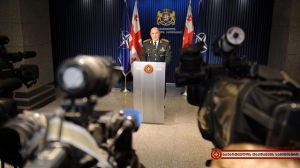 Six officials of the Georgian Defence Ministry have been suspended from their duties after allegations emerged that Georgian soldiers were involved in the sexual abuse of children in the Central African Republic (CAR).
After the Security Council Session, Georgia's Defence Minister Tinatin Khidasheli made the statement and announced that deputy head of General Staff Roman Jokhadze is among those whose authority has been suspended.
"I received information from the UN last week and ordered military police to launch an investigation. We immediately decided to suspend those officials' authority who managed the issues in 2014," Khidasheli stated.
UN High Commissioner for Human Rights Zeid Ra'ad Al Hussein said Friday that he was extremely alarmed at the continued allegations of sexual exploitation and abuse of minors in the Central African Republic (CAR) by members of foreign military forces. The alleged crimes mostly took place in 2014, but only came to light in recent weeks.
A joint UN team in the CAR recently interviewed a number of girls who said that they had been sexually exploited or abused by foreign soldiers.
30 January 2016 14:36