President: I See Georgia as Full Member of Europe Family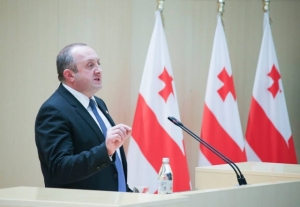 In his annual report to Parliament, President of Georgia Giorgi Margvelashvili said today that institutions should be leading the country rather than individuals.
The President stated that political or personal rivalries can damage the country, its constitutional institutions and processes.
According to Margvelashvili, a modern European state is based on constitutionalism and despite the fact that state institutions have been formed for 25 years after Georgia gained independence, they face a constant need for development and empowerment.
"Development in all areas should be supported by the effective work of state institutions. It is necessary that the personalized relationships characteristic of the transition period be replaced by strong democratic institutions," the president declared.
Margvelashvili also emphasized the importance of free media in relation to political and democratic life. "Only free media can guarantee a healthy elections process and full political life."
Discussing the issue of Gazprom, the President stated that this company is not only energy, referring to Gazprom's political role in the Russian Government. "We shouldn't forget about the fact that Russia utilizes Gazprom for pursuing its political interests."
As for Georgia's European integration, Margvelashvili emphasized that he envisions Georgia not as a guest to the European family, but a complete member of it.
Issues discussed included the DCFTA agreement with the EU, laws surrounding the national bank, the state budget and systemic crime.
For the first time, the Georgian Dream government, including the Prime Minister, attended the President's address. Last week the Governmental administration declared that political speculations should be over on this topic. "The PM has repeatedly voiced the need for moving Georgian politics to a constructive format where debates and discussions will be held on the country's substantial interests and not on formal issues."
03 February 2016 16:21