The Law on Occupied Territories under Threat Again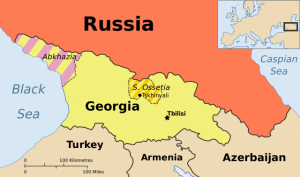 Georgian Justice Minister Tea Tsulukiani is considering further changes to the Georgian Law on Occupied Territories (LOT). 
"These areas have had and will continue to have the status of occupied territories, as long as their de-occupation is not achieved. This document prohibits commercial and other types of ties with South Ossetia and Abkhazia," the Minister stated to Ukrainian publication "Den". "This is very important, because there are spilt families," she continued.
Recently, Paata Zakareishvili, Georgian State Minister for Reconciliation and Civic Equality (formerly called the Ministry of Reintegration) officially stated that some amendments to the LOT would be made.
The law approved by the Parliament of Georgia after the Russo-Georgian war of 2008 was the primary target for Zakareishvili and, in general, for Georgian Dream (GD) believing in the constructivism theory for stabilizing relations with Russia and that directly talking with the separatist government of Abkhazia would work. Along with Zakareishvili, other GD leaders have several times noted that the separatist regimes of Abkhazia and Tskhinvali region were independent players in the conflicts that have displaced over 500,000 Georgians.
Since the 2008 war, Russia's intentions have become clear.
It is notable that the LOT has been used as a serious mechanism against Russia by the Georgian side to ensure that the international community recognizes Georgia's sovereignty and territorial integrity. The LOT's approval by the Georgian side was followed by increasing efforts to work on the unrecognition policy with Georgia's international allies.
Contrarily, the Georgian Dream reversed the course of anti-Russian rhetoric taken by Saakashvili's government, in favor of stabilization. These actions may have reduced the chances of further hostility from Russia but have perhaps left Georgia's legal framework somewhat vulnerable.
The first step of GD to abate the LOT was made in 2013, when the coalition re-named the Ministry of Reintegration to the Ministry of Reconciliation and Civic Equality, which some Georgian citizens found uncomfortable.
Zakareishvili, who was acting as an independent expert in the sphere, always believed that talks with Sokhumi and Tskhinvali marionette regimes would be beneficial for conflict resolution.
From today's perspective, there seems to be no real solution in the conflicts that are sometimes referred to as frozen, as Russia's inclusion in the process reveals both territorially tiny regions are being utilized to achieve Russia's imperial ambitions in the region.
Steven Jones
11 June 2015 22:05