MAP Not Key to NATO Integration, Says Caucasus Rep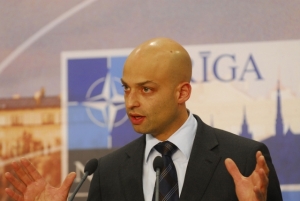 NATO's Special Representative for the Caucasus and Central Asia James Appathurai said Monday that aspirant countries like Georgia should put greater emphasis on deeper NATO integration rather than focusing on receiving a Membership Action Plan (MAP).
In an interview with Georgia's Public Broadcaster, Appathurai stated that the MAP was initially created as a practical instrument of integration for the former Yugoslav republics following a decade of war in the 1990s.
Appathurai stressed that the MAP no longer has the same political clout that it had when first introduced in 1999.
Several NATO members are unlikely to granting a MAP to Georgia without specific security guarantees, Appathurai said.
He also pointed out that the overall process of further integration is severely damaged by focusing too heavily on the issuance of a membership action plan.
Appathurai believes the forthcoming NATO Summit in Warsaw will result in a show of solidarity and a strong statement concerning Georgia's Euro-Atlantic aspirations.
He also said he expects significant steps to be taken aimed at strengthening bilateral cooperation as part of NATO's security agreements with Georgia, known as the comprehensive package.
08 February 2016 13:45