Sweden's Foreign Minister Meets Kvirikashvili in Tbilisi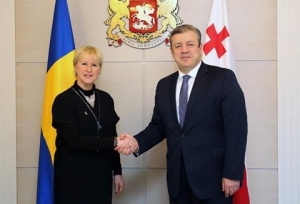 Georgian Prime Minister Giorgi Kvirikashvili and Swedish Foreign Minister Margot Wallstrom discussed bilateral relations between their two respective countries during a meeting in Tbilisi on Monday.
The discussion focused on Georgia's European and Euro-Atlantic integration and regional development as well as the current status of a number of reforms in Georgia. Wallstrom expressed Sweden's support for the territorial integrity of Georgia as well as its European integration.
Wallstrom also met with her Georgian counterpart, Giorgi Janelidze. Following the meeting, Janelidze said support from the world community is Georgia's single most effective mechanism against the illegal actions of Russia regarding its continues violations of Georgia's sovereignty.
09 February 2016 14:42