PM: Government Will Ensure Transparent and Free Elections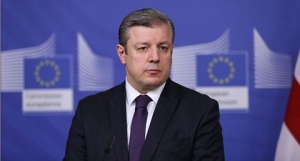 During his visit to Brussels on February 9 – 10th Georgian PM Giorgi Kvirikashvili stated that that Government will ensure the holding of transparent and free elections, freedom of the media and the persistent reform of judiciary and engagement of civic society.
Following his visit, the PM declared at a governmental session that he assured Brussels that parliamentary elections will be held in compliance with the highest standards in Georgia.
Summing up his visit to the European capital, the PM noted that Georgia's European partners have high expectations that the government will fulfil all of these standards. "It is very important for us to ensure all components that are necessary for conduct of elections in democratic countries," the PM declared.
In his statement made in Brussels, the Prime Minister noted that he looks forward to a continued dialogue with the EU in order to define new area for deeper cooperation under the revised ENP that will contribute to accelerating Georgia's progressive integration with the EU.
European Commissioner Johannes Hahn emphasized that Georgia has achieved remarkable success in the process of implementing the visa-liberalization Action Plan and the final decision is vested upon the European Parliament.
Zviad Adzinbaia
Photo credit: Prime Minister's press office
11 February 2016 13:39