US Department of State Blog: Helping Georgia Care for Wounded Warriors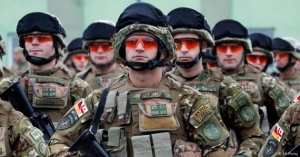 An article about Georgian soldiers has been published on the official blog of the US Department of State.
The author, Rennie Silva who is a security assistance program analyst in the Office of Security Assistance of Political-Military Affairs, emphasized that every time, when the US asked nations to contribute to international security, this small country at the cross-roads of Eastern Europe and Western Asia has stepped up to support global security.

In his article Silva highlighted that Georgia is the second largest contributor in Afghanistan, behind the United States, deploying over 12,000 soldiers since 2010, first as part of the International Security Assistance Force and currently as part of the Resolute Support Mission.

"As Georgian forces continue to serve shoulder to shoulder with U.S. forces in some of the most dangerous environments around the world, U.S. security assistance is helping Georgia to care for its soldiers at home after they return from battle. Through U.S. Security assistance programs, we are working with Georgia to strengthen their military medical facilities into institutions able to adequately treat and care for its wounded military personnel," he wrote.

Since 1998 Georgia has received a total of $220 million in Foreign Military Financing (FMF) and the Department of State has specifically used FMF funding to provide equipment, training and advisory support to strengthen Georgia's ability to care for its wounded warriors.
Read more at: blogs.state.gov
11 February 2016 14:03