Support Georgian Movie for Los Angeles Film Festival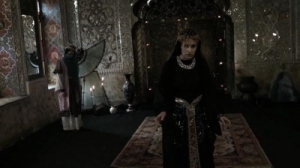 LOS ANGELES, California - Mystery of The Chest, a movie by a Georgian artist and director Anton Balanchivadze was presented at the Los Angeles CineFest.
The official web page of the festival offers the poster and synopsis of this 14-minute film, available for anyone. What is even more important, apart from jury, the viewers can also express their opinions and the film can receive a special prize if voted by most people.
According to the plot, the Roman Emperor returns from a long journey. The Vizier greets him with the news that the Queen is not faithful to him and there is someone in her bedroom. The Emperor finds this hard to believe, but he still goes to the Queen's room alone. When he approaches her bedroom, he sees his wife hastily locking a large chest.
The legend's idea is that very few people are interested in finding the real truth which no one needs; that one cannot hide the truth but sometimes there exists the truth you just do not want to know about.
The movie by Anton Balanchivadze was filmed about 6-7 months ago with a very small budget. It's based on a legend, using a made-up language. 600 films were presented for the Los Angeles festival and 200 of them were chosen as part of the shortlist.
The main roles are played by the famous Georgian actor Giorgi Megrelishvili and an amateur actress Keta Kavlashvili.
The voting process is as follows: enter the Los Angeles CineFest website and vote by mail. You will have to write down the name of the movie in English - Mystery of The Chest and then you can vote only once. The voting has already begun and will continue until February 20. Each viewer can cast his vote only once.
After the jury announces the winner, the number of votes will decide another winner.
The result of the voting will be known on February 25, while the final decision of the jury will be announced on March 5-6.
Source: Georgian Journal
20 February 2016 14:23