Spy Chief Says Fewer Georgian Citizens Joining ISIS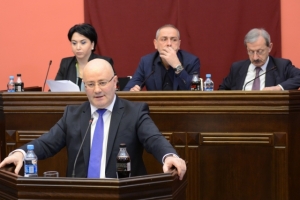 TBILISI – The number of Georgian citizens volunteering to fight for ISIS in Syria and Iraq has significantly dropped in recent months, according to State Security Services Deputy Director Levan Izoria.

Citing a 29-page report covering the second half of 2015, Izoria said the number of Georgian citizens detained while crossing the border into Turkey and suspected of trying to link up with ISIS or other militant Islamist groups in neighboring Syria had declined to nearly zero compared to the same period in 2014 when dozens of cases were reported.

"Due to our preventive measures, in the period stated, unlike the previous period, there has been almost no outflow of Georgian citizens trying to cross the border into Turkey with the intent of joining ISIS," Izoria said.

Several legislative amendments passed by the Georgian parliament in 2015 aim to prevent the country's citizens from illegally crossing international borders to engage in terrorist activities or join unsanctioned armed militant groups.

According to Izoria, the new measures have prevented at least 40 Georgian citizens from leaving the country to link up with ISIS recruiters on the Turkish-Syrian border.

The report also hailed the security service's cooperation with the US' CIA, UK's MI6 and Germany's BND intelligence agencies.

"Cooperation with our foreign partners has been decisive. As a result of our substantial information sharing, we've been able to compile a long list of people who present a potential terrorist threat to both Georgia and the international community," Izoria said.

He later claimed that 1,014 people have been banned entry into Georgia over the last year due to their suspected affiliation with the Islamic State.

Georgia's intelligence services estimate that around 50 of its citizens are currently fighting with ISIS and its allies in Syria. The overwhelming number of recruits originates from Georgia's substantial Muslim minority, who account for roughly 14 per cent of the country's population of just fewer than 4 million.

Georgia's Muslim population consists mainly of Sunni Chechens, Adjarians and small groups of ethnic Abkhaz, as well as Shi'a Azeris.

Tarkhan Batirashvili, known by his Arabic nom de guerre - Abu Omar al-Shishani, a Chechen from Georgia's Pankisi Gorge, made a name for himself as ISIS' top field commander and minister of war before he was mortally wounded in a massive US drone-strike in early March.

Izoria reiterated that Georgia remains a low-risk country in terms of terrorism, but warned of the rising number of young Muslims who are being radicalized by ISIS propaganda obtained online and the growing number of extremist Salafi mullahs who have appeared in Pankisi in recent years.


Russia Named Main Threat

In his report, Izoria was quick to name Russia as Georgia's main security threat due to Moscow's continued support for the breakaway Abkhazia and South Ossetia regions.

"Russia's huge military occupation contingent, including modern heavy weapons with offensive capabilities in both the Abkhazia and Tskhinvali (South Ossetia) regions represent an extreme existential threat to the Georgian state," Izoria quoted the report as saying.

Though the report's conclusion regarding threats from Russia was welcomed by members of parliament, several key law makers from the opposition and the ruling Georgian Dream coalition sharply criticized the intelligence services for failing to mention Moscow's increasing use of soft power in Georgia through Kremlin-controlled media outlets and disinformation campaigns carried out by Russia's FSB intelligence services, the successor agency to the Soviet-era KGB.

Russia has poured significant resources into Georgia's media landscape, with local branches of the Kremlin-controlled LifeNews, Sputnik and RT (formerly Russia Today) opening field offices in Georgia's capital, Tbilisi.

Using both Russian and Georgian speaking correspondents, the networks broadcast a relentless barrage of programs aimed at fueling anti-Western sentiment in Georgia.

Russian President Vladimir Putin has long hoped to steer public opinion in Georgia away from its goal of joining both the European Union and NATO.

Putin wants to bring Georgia back within Russia's orbit by capitalizing on growing discontent in the country as the economy falters and a significant rise in Soviet nostalgia takes hold amongst Georgia's working class.


By Nicholas Waller
30 March 2016 21:32