Manana Menabde, an Organic Artist Serving Multiple Muses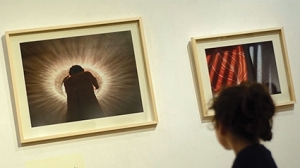 At Tbilisi History Museum (commonly known as Karvasla) under the Georgian National Museum, the photo-exhibition of distinguished artist Manana Menabde is on. Titled 'Illusions,' it opened last Thursday, March 24.
She is acknowledged as an artist who will never be identified with any of the fashionable or epoch-making trends. She is always associated with something independent, original and harmonious.
Menabde is first and foremost a well-known musician and singer. Alongside that she is a painter, photographer, film director and writer. Her extremely musical family still evokes great interest: Manana Menabde was only four years old when the Magazine 'Ogonyok' published an article about the famous Ishkhneli Sisters (Menabde's grandmother and great aunts) and mentioned the little girl who could perform their whole repertoire. "My house was a sort of music-box," Manana said, "I was fortunate to be part of an everlasting festivity of music."
She worked in painting, graphic art and collage together with the new generation of the 1980s. From 1991 she lived and worked in Berlin holding concerts, exhibitions, and participating in various projects and performances in Germany, Russia and Georgia.
Manana Menabde became interested in photography back in the 1970s and in 2013, she was offered the chance to design a friend's book 'Declaration of Love in Russian,' which includes around 100 of Menabde's photo-works.
The exhibition 'Illusions' showcases various series on different motifs: 'Ghosts of Tango,' 'Mannequin and Life,' 'Graphic Photos,' 'Painting Photos,' 'Watercolor,' 'Pastel,' and 'Light and Shadow'. Each reveals the author's multicolored photographic style and an expression peculiar to her.
Menabde can also be found decorating ceramics, releasing musical albums ('Dreams of Georgia' and 'Bulat Okujava's songs performed by Manana Menabde'), and publishing her fables and short stories in German which add to a literary collection which also includes her autobiographical novel 'Wednesday - the Day of the Flight.' In 1992, Manana Menabde was awarded a literary scholarship by the Heinrich Boll Foundation. Art critics say that in all spheres, she manages to be an organic artist.
Interestingly enough, the majority of these photos are taken with an amateur SONY camera or an iPhone; only a few have been taken with a professional camera. For Manana herself it is more important how she captures the photographs – what intensity of illumination, which context and, of course, what she wants to say through them. "I always like to tell the unvarnished truth," she says, "that is why I avoid using effects. My photos are quite raw. The art of photography is a way of showing the truth, which does not always look as beautiful as we would like it to be."
Hannelore Umbreit, Leipzig University professor, translator and specialist in Slavic Languages, says, "The extraordinary talent of Menabde is always revealed in her ability to keep tradition, while at the same time breaking it."
Lika Mamatsashvili, Curator of the National Museum of Georgia, told GEORGIA TODAY: "Manana Menabde is a real artist, which implies enjoying talents in almost all arts. First and foremost, she is a singer. She sings exactly how she feels. This photo-exhibition is also a demonstration of her feelings and she wishes to transmit these naked sensations to the audience."
There is a saying that it is impossible to serve two muses. However, there are a very few who manage to serve several. Manana Menabde is among them, a person who is totally saturated with creative energy.
The exhibition is distinguished with story-telling through the texts which accompany each photograph, texts that reveal the artist's wisdom and ironic sense of humor: "The man kept silent and everyone thought him to be very clever," or "The man lacked only his death to be acclaimed a genius." The windy and snowy Moscow and Saint- Petersburg views are contrasted by azure skies and sunny Batumi beaches, which modify in color according to the time of day. The original shots from the train, which makes a natural effect, as if the photos have frames, are worthy of note.
Manana Menabde mentions that she never touches up her works and never uses Photoshop. Therefore, it is quite difficult to guess how everything is blue in the series of "blue" apart from the sky… one snapshot from the 'Light and Shadow' series is also something special: white sheets, white book and white fan, partly lit by a sun beam.
"Perhaps it's time to break down all the walls, remove the barriers and wipe clean all the borders with an eraser; fly up into the sky and feel its height, greedily breathe in the smell of streets wet from the rain; float with the wind from branch to branch, from sky to sky, from star to star… Maybe, it's high time to do something really crazy," said the ageless artist.
Manana Menabde's exhibition 'Illusions' will run until April 15.
Maka Lomadze
31 March 2016 21:12