Armenian, Azeri Forces Cling to Tenuous Nagorno-Karabakh Ceasefire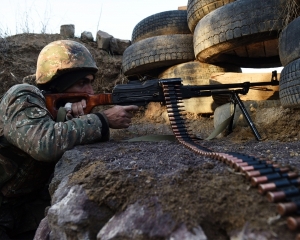 YEREVAN – After four days of intense fighting that left up to 70 people dead, a tenuous ceasefire appears to be holding between Armenian and Azeri forces in the disputed South Caucasus region of Nagorno-Karabakh.
Both sides were quick to accuse each other of violating the truce, though most of the fighting along the internationally imposed contact line separating the two armies has stopped since a Russian-led delegation brokered a ceasefire that brought an abrupt end to the hostilities early Wednesday.
The fighting has deeply shaken the international community who fear that an escalation could turn into a full-scale war between the two long-time enemies, with Turkey and strategic partner Israel strongly backing Azerbaijan and Russia coming to the aid of close ally Armenia and its proxies in Nogorno-Karabakh as part of their mutual security pact.
Major Escalation
Fighting erupted in the early morning hours of April 2, with both sides using heavy artillery, mobile rocket launchers, rotary-wing aircraft and drones in the ensuing three days of combat.
Azerbaijan's Defense Ministry said 31 of its soldiers had been killed in action since Saturday; Armenian forces stated that 29 of their soldiers died in the fighting and 101 were wounded.
Conflicting claims over the number of civilian deaths continue to circulate, though no independent verification regarding non-combatant casualties has been made available.
Armenia's ambassador to the US, Grigor Hovhannissyan, stated in an interview with the Associated Press that Azerbaijan had launched a major offensive in Karabakh as part of an effort to divert domestic attention away from "growing social unrest and discontent throughout the country."
The authorities in Azerbaijan have steadfastly refuted the claim, saying an unprovoked attack by Armenian forces required a response.
Elin Suleymanov, an Azeri official, accused Armenia of launching combat operations to divert attention from a visit by Azerbaijan's President Ilham Aliyev to Washington, which has been described by independent sources as having been highly successful.
Both the Armenian and Azeri defense ministries state that their armies have inflicted heavy losses - numbering in the hundreds - on their enemy, though the rival claims appear unlikely and have not been independently confirmed.
Reports from the battlefield indicate that Azerbaijan was initially successful in gaining ground against Karabakh's Armenian forces, with military officials in Azerbaijan's capital Baku claiming that the Azeri military had captured several villages and a strategic piece of high ground along the contact line.
A massive counterattack by Armenian forces halted the Azeris' advance and, according to Armenian media reports, largely recaptured most of the areas that were first overrun by Azerbaijan's forces in the early hours of the conflict.
Azeri officials have angrily stated that they will refuse to cede control of territory captured in the fighting and that any such demand would be a "major non-starter" for upcoming peace negotiations.
Troubled Past
Landlocked Nagorn0-Karabakh, an ethnic Armenian exclave surrounded by Azerbaijan, has been under Yerevan's control since a bloody two-year separatist war that killed an estimated 40,000 people and left more than a million as refugees ended in 1994.
Placed within the boundaries of the Azeri SSR by Soviet leader Joseph Stalin in an attempt to suppress nationalism in the Soviet Union's titular republics, Nagorn0-Karabakh became a flashpoint for ethnic violence in the final years of the Soviet Union.
Armenians, who made up 80 per cent of the population at the time, attempted to wrestle the region back from Azerbaijan in the late 1980s during Soviet President Mikhail Gorbachev's liberalizing Perestroika period.
The Christian Armenian population claimed they were subject to a growing number of discriminatory policies enacted by the local Muslim Azeri minority, who then dominated the local police and Communist Party apparatus.
Deadly clashes broke out between the communities in 1988-1991, reaching their peak in February 1988 when Azeri mobs killed at least 26 Armenians in Sumgayit, a drab industrial suburb outside Baku.
The incident caused mass civil unrest in the city and later forced Gorbachev to send units of the army as well as Soviet MVD interior ministry troops into the city to quell the violence.
As the Soviet Union imploded, open warfare broke out between the two communities in late 1992.
Allied to Russia and heavily supported by volunteers from its vast diaspora in the West, Armenia's superior forces quickly overran and routed Azerbaijan's poorly trained, Turkish-supplied army in 1992-1993.
Both sides were later accused of ethnic cleansing and war crimes, including the April 1992 massacre of more than 100 ethnic Armenian civilians in Maragah and the slaughter of 160 Azeri villagers in Khojaly in February 1992.
By the end of the war, the overwhelming majority of Azeris fled the region as refugees.
An uneasy ceasefire brokered by Russia, the US and France in 1994 left Nagorno-Karabakh under Armenian control, but years of wildly unsuccessful negotiations headed by the Organization for Security and Cooperation in Europe have left the tiny mountainous region a highly militarized breakaway separatist state, with its status still unresolved.
Return to the Status Quo Ante
In light of the recent escalation, questions now arise for the major players in the region and the two sides that are party to the conflict as to what the state of affairs will be in the highly disputed region.
Moscow's position as a mediator in the conflict arises mainly by default rather than through its influence over Aliyev or his Armenian counterpart Serzh Sargsyan.
Russia has supplied vast quantities of highly sophisticated weaponry to both Azerbaijan and Armenia as a means to expand its influence over a region that was once key to its imperial ambitions.
This double game has angered many in Armenia, which has maintained close security and economic ties with Moscow and has longed looked to the Kremlin for political guidance.
Though both Turkey and Georgia have offered to play a part in finding common ground between the Azeris and Armenians, neither country holds much sway over the two warring nations in the same manner as Putin's Russia.
Turkey is a staunch, vocal ally of Azerbaijan with no diplomatic relations with Armenia. Georgia, while a strategic bordering state, lacks any serious clout within the international community to act as a true mediator.
As both sides announced a break in the fighting on Wednesday, U.S., French and Russian officials prepared a series of high-level visits to Azerbaijan and Armenia to seek an agreement.
But it was Russian President Vladimir Putin who held separate phone calls Tuesday with the leaders of Azerbaijan and Armenia, demanding an immediate halt to the fighting and a return to the 1994 cease-fire line.
He's dispatched his Foreign Minister Sergey Lavrov to meet with Aliyev and Iranian officials in Baku and Vice President Dmitry Medvedev to Armenia to talk with Sargsyan.
While the West has continued to dither over how to respond to the conflict, Russia's quick shuttle diplomacy between Yerevan and Baku will likely leave Moscow as the key arbiter in any future peace agreement.
Stability in Nagorno-Karabakh, however, will continue to be elusive as neither side is willing to give ground over their rival claims. Though Moscow has the strongest hand to play to pressure both sides into occasionally abiding by the ceasefire agreements, the absence of any international mechanisms to enforce a lasting settlement over a highly militarized Karabakh will leave the impoverished region in limbo as another of the half dozen post-Soviet frozen conflict zones.
By Nicholas Waller
07 April 2016 17:16