Georgian Opera Stars Come Out against Tbilisi Opera Theater Management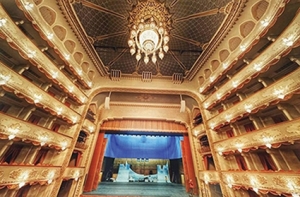 Absence of repertoire, corruption, nepotism and threats of unfair dismissal... World-famous Georgian opera singers such as Mzia Nioradze, Tamar Iveri, Nana Kavtarashvili, Anita Rachvelishvili, and Lado Ataneli, with members of the Tbilisi opera choir, are up in arms at the current situation in the opera and have named their artistic director Davit Kintsurashvili "unprofessional" for having only staged three operas in the two years of his leadership at the opera theater.
Mzia Nioradze, Mezzo Soprano, principal soloist at the Metropolitan Opera: "In the two years of Kintsurashvili as artistic director, there have been no artistic councils. Only now, following a recent meeting with the Minister of Culture to bring our complaints to light, was it suggested and a council formed. It's unimaginable for any theater in the world to function without an artistic council. Now, the soloists are stuck without a repertoire. If a singer does not sing on stage for a year or two, it can be the end of their career!"
Among other things, the singers accuse the opera head of redistributing 335,000 GEL among 17 members of the management since January. "The book-keeper received 21,000 GEL. This all happens while not a single soloist or choir singer has received an extra penny as a bonus," Tamar Iveri a soprano with a successful international career since her debut at La Scala in 2011, having appeared at Covent Garden, Metropolitan Opera, Vienna State Opera, Royal Opera House, Opera Bastille, and others, told GEORGIA TODAY.
The protestors also say that while the former Minister of Culture, Guram Odisharia, expressed his good will by letting the opera theater hold democratic elections, they were bitterly deceived.
Iamze Gurchiani, member of the Opera Choir, who has participated in rallies against the regressive leadership of Kintsurashvili: "We were waiting for the re-opening of the Opera House for six years, and in vain. We can't realize our creative potential while secondary modern musical pieces are given priority. We have the Philharmonic Concert Hall and Music and Drama Theater for such concerts, but the Opera is first and foremost for an opera repertoire. It is pure fact that the Head of the Opera House does not have enough competence to handle his duties. Choirs are an inseparable part of opera, and a rich repertoire exists in world music history. Our choir is the core of the theater, we have magnificent voices; we are all worthy soloists."
"We also have a great school of conductors, starting from the fabulous Odyssey Dimitriad, Jansugh Kakhidze, Evgeni Mikeladze, Vakhtang Machavariani, and Zaza Azmaiparashvili. Today, Kintsurashvili, who was previously unknown to the Georgian musical elite, has appeared and is now using the Opera Theater for his own gains," Nioradze said, going on to tell GEORGIA TODAY of the time the Opera was hired out to a Russian Oligarch for his daughter's wedding and how, on a separate occasion, the entrance hall was used to host a lesbian strip-tease show. "Kintsurashvili graduated from the faculty of choir conducting; he is not even a conductor of orchestra. Thanks to the PR he does worldwide via articles and lies, in three months, he says he has "staged seven performances," which is absurd. Ingolstadt recently invited him, but after his failure, they quickly said a polite good-bye to him," Nioradze said.
"Even though the majority are united, Kintsurashvili says that this [protest] is merely a well-organized conspiracy against him," Iveri said. "Yet we, the singers, merely want a stage to sing on. We will always be happy to serve our theater as best we can. In the two years since Kintsurashvili took on the position, there were 40 ballet premieres, thanks to Nino Ananiashvili's dedication. Yet Kintsurashvili has only organized one new and two old opera performances, when our opera can take pride in having 36 soloists. Less than 10 are actively employed, while the rest are currently receiving salaries as a pension, depressed and without any chance of self-realization. There is a police regime inside the theater. Kintsurashvili strictly controls all the comments on social media and then reprimands authors of anything negative and threatens to sack them. Nor has he kept his word to open an atelier workshop in the theater, for decorations and costumes, meaning the Opera House is no more than a concert hall. These days it is a house without a foundation," Iveri continues.
It seems fault for today's disarray can be found within both the current and former Opera administration and within the way the Ministry of Culture has handled the complaints.
Kakhaber Tetvadze, Chairman of the Trade Union of Opera and Ballet Theater, Bass, told us: "There were juridical question marks inside the administrative order. Recently, Kintsurashvili made a number of concessions and came to an agreement to make some amendments. Our first step forward was the election of a trade union. However, the theater is going backwards. I will be very straightforward: the Ministry of Culture is where the shoe pinches. They sent an audit, but it was again staffed with Kintsurashvili supporters. However, we shouldn't blame him for everything. The previous Opera Head, Sakvarelidze, having been dismissed, ordered the burning of costumes of 10 performances, as there was a problem where to store them. Had his orders not been carried out, it would have been easier to stage many more operas."
"I left Georgia in 1994, when there was no electricity, no gas, nothing in Georgia. In those days, there were no embassies in Tbilisi," Mzia Nioradze said. "I attended 'Clowns' recently and saw that the hall was full of tourists. I know a lot of ambassadors who wish to come and see the famous Tbilisi opera, but what will we show them? We have a theater of European standards, world-famous stars, and it can offer nothing to its spectators who had been looking forward to its opening. I just returned from Riga Theater, which despite being old and needing renovation, has such a high artistic level- they dedicate a separate festival to Verdi! Here, nothing happens. We wish to sing on our native stage, but how, if there are no performances?"
"However, we won't stop, as this is a national matter of dignity. We will fight to the end."
Maka Lomadze
14 July 2016 20:31