EU Commissioner Reassures Georgia on Visa-Free Regime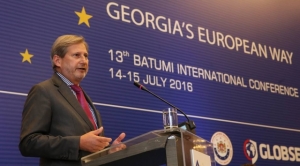 BATUMI, Georgia - The EU's Commissioner for Neighborhood Policy and Enlargement Negotiations Johannes Hahn met with Georgian Prime Minister Giorgi Kvirikashvili on Thursday to discuss Europe's commitment to Georgia's visa liberalization process and bilateral relationships between Brussels and Georgia.

Hahn also delivered the keynote speech at the 13th Annual Batumi International Conference where he reiterated that Georgia has fulfilled all the required obligations for a visa waiver regime with the EU.

"I believe it will be possible for Georgia to receive visa liberalization by the beginning of October. We do everything to reach this. Now it's up to the EU to fulfill its end of the pledge. If necessary, I am personally ready to do everything possible to help," Hahn said.

He also said the difficult period that the EU is facing would have no bearing on Brussels' support for Georgia's Euro-Atlantic integration.

"I am here to reassure you that the EU is sticking to its commitment to Georgia," Hahn said.

Kvirikashvili ensured Hahn that the Georgian government is ready to hold fair and free elections in October.

"We have successfully carried out free presidential and local elections…we will complete the process with fully transparent legislative elections. This is why Georgians are dedicated to doing all that is required to become a full member of the European Union. I am certain that you will agree that our progress is impressive. I am pleased to confirm that Georgia is making steady progress in implementing the Association Agreement and the Deep and Comprehensive Free Trade Agreement," Kvirikashvili said while addressing the conference in his opening speech.

Kvirikashvili also welcomed the European Council's decision two weeks ago to convene a special meeting in mid-September to review the future of European integration.

More than 3 million Georgian citizens expected visa-free travel to Europe's Schengen Zone beginning early this summer. However, Germany suddenly backtracked on its previous support and the EU is now making it easier to suspend visa waivers for countries wishing to move closer towards European integration.

According to reports, Berlin is growing increasingly skeptical when dealing with Tbilisi after German authorities claimed that major players in Germany's organized crime world trace their roots to Georgia.

The visa waiver regime allows easier access - but not the right to work - for up to 90 days in Europe's Schengen Zone, which comprises most EU states and several non-EU members.

After the conference, Hahn will also visit some EU-funded agriculture projects in Georgia's Black Sea Adjaria region with the EU's Ambassador to Georgia Janos Herman and United Nations Resident Coordinator Niels Scott.
The visit includes meetings with small farmers will offer their assessment of the role of agricultural cooperation aimed at boosting rural development in Georgia.

By Tamar Svanidze
Edited by Nicholas Waller
15 July 2016 01:05