Dublin Library Docs Reveal Interest of Henry VIII, Elizabeth I in Georgia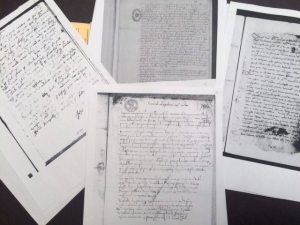 Today, the National Library of Ireland presented the Art Palace of Georgia with 16 unique historical documents that had been preserved in the library.
The documents consist of royal correspondence letters attributed to two famous monarchs that ruled over the British Isles: Henry the VIII (r. 1509-1547) and Elizabeth I (r. 1558-1603).
Apparently, both of these royal figures shared a keen interest in Georgian affairs and so commanded their ambassadors in Constantinople to send them extraordinary correspondence meticulously detailing the matters-at-hand in the Kartl-Kakheti and Samegrelo provinces.
Each of the documents is handwritten and all were unknown to Georgian society to date. Some of the letters are written in Latin, and the remainder in English.
The project that aims to transfer the copies of the unknown English and Irish documents dedicated to Georgia to the Arts Palace (State Museum of Theater, Music, Cinema & Choreography, Kargareteli Str. 6) is being carried out through the support of Ambassador of Georgia in the Republic of Ireland, Giorgi Zurabishvili, and embassy representative, Natia Kalandia.
Additionally, this year, Cartu Fund funded a project that aims to translate and research such historic documents. The project will ensure that in the near future, hundreds of European documents about Georgia, dated from the 16th to 18th century, will become accessible for researchers and scholars alike.
Vazha Tavberidze
12 August 2016 21:57