Front Line Village in Georgia to Host International Animation Film Festival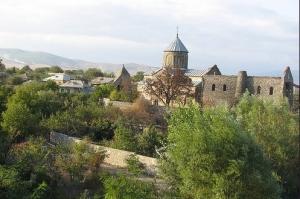 NIKOZI, Georgia – Georgia' small village Nikozi, located only 500 meters from the Russian occupied South Ossetia region, will host its sixth annual International Animation Festival beginning September 1.
Dozens of local and international artists from France, Italy, Canada, Poland and Lithuania will showcase their work at the Nikozi Monastery Palace, which was destroyed in the five-day 2008 August War against Russia.
The festival is organized with the help of Hahn Films, Tbilisi's Goethe Institute and Kvali XXI film studio.
The Okropiridze Art School will host a three-day workshop from September 2 on animation design, while a film production course will be conducted by German artist Gabor Steisnger.
The festival will kick off with a presentation of the cartoon trilogy "Animation: A World History" by Italian filmmaker Giannalberto Bendazzi.
"Over time we came up with the idea to organize an International Animation Film Festival in our village. In 2011, we held the first festival…We wholeheartedly welcome to our festival," said Nikozi and Tskhinvali Metropolitan Isaiah.
Guests from Tbilisi will be transferred to Nikozi by van free of charge, leaving Tbilisi from the Bike monument near Radisson Blu Iveria Hotel.
Photo: Zhenko/ Flickr
29 August 2016 07:14