Central Elections Commission On 2nd Round Of Elections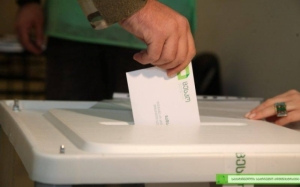 TBILISI- The Central Elections Commission (CEC) of Georgia has stated that according to preliminary results, a second round of elections will be held in 18 out of 22 precincts of Tbilisi.
The CEC said that all polling stations in the capital have been counted and the second round of elections will be held in all precincts where the 50 percent barrier could not be crossed.
The Election Code of Georgia envisages that the second round must be held within 25 days of the first round. The two candidates who show best results in the first round will take part in the second. The one who gets more votes in the second round will be declared winner. If they get equal votes, a third elections will be appointed.
In Tbilisi a second round will be held in Mtatsminda, Vake, Saburtalo, Krtsanisi, Isani, Samgori, Didube, Chughureti and Gldani districts.
As for the regions, majoritarian elections ended in the first round in 17 precincts. A second round of majoritarian elections will be held in 34 out of 51 precincts.
Candidates of the ruling party Georgian Dream (GD) and the opposition party United National Movement will take part in the second round of elections in 32 out of 34 regional precincts. In the remaining two precincts, the GD candidates will compete with the Free Democrats and the Industrialists.
By Thea Morrison
09 October 2016 19:21