"From the Alps to the Caucasus:"Georgian Pianist & Philanthropist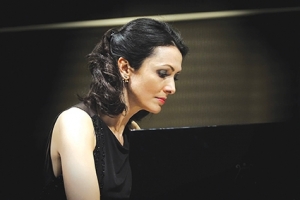 From the Alps to the Caucasus is the name of the project within the framework of which pianist Tamar Kordzadze, living and working in Zurich, and Swiss and Georgian stars performed an unforgettable concert on November 20 in Zurich, that aimed to build strong cultural bridges between the two countries.
GEORGIA TODAY spoke to Tamar Kordzadze to find out more about her charity work and talent.
Tell us about your charity association "Vivace"
My generation of musicians experienced an extremely difficult period during which there was no financial aid for students, and no sponsors to help us to participate in international competitions, festivals and concerts abroad. From childhood, I dreamed of founding a charity to fund talented children. On arriving in Zurich, where I was able to continue my studies with the aid of a full scholarship from the fund "Lyra" - Bank Vontobel, I became even more motivated to ensure that future generations would be able to receive similar funding for such opportunities.
Since 2009, we have implemented around 30 projects and have given a helping hand to about 70 young musicians, 10 piano chairs were distributed to 7 music schools in Tbilisi, where the children had previously been playing while sitting on uncomfortable dining chairs. We purchased 3 pianos, 4 child-sized violins, 2 cellos and 3 wind instruments for music schools. These instruments are of utmost importance for the children, as from childhood development of musical talent begins; without the necessary instruments, it would be impossible for their abilities to flourish. Around 30 young Georgians were given opportunities to perform at various international music festivals, to participate in master classes taught by famous musicians and to give concerts in Europe. We have also provided scholarships and have supported Georgian students participating in international competitions financially.
All this is a tremendous success for a charity such as ours, which is financed via charity concerts and by sponsors who finance concrete projects. It is also based on the enthusiasm of myself, as its President, and of Ralf Kostgeld, vice-President, without a penny in return.
"From the Alps to the Caucasus"- this project sounds so extensive. Please tell us about it.
It's 15 years since Georgian students came to Zurich University of the Arts to study. We decided to embark on this project to mark this anniversary with the aim of linking Tbilisi and Zurich music high schools to enable student and teacher exchanges; for instance, we wish to invite instructors from Zurich to attend the exams and contests at Tbilisi Conservatoire. We also wish to organize special projects and training courses for Georgian students and instructors at the Zurich University of the Arts.
The concert on November 20 in Zurich was a great success! We had an extremely diverse and interesting program, and many prominent, talented artists took part. The 500-seat hall was packed. Among the attendees were Irakli Kurashvili, the Georgian ambassador to Switzerland, Guenther Baechler, former Swiss Ambassador to Georgia, directors of academic institutions, famous musicians, critics, managers of leading music agencies and Georgians living in Switzerland.
I must mention the support of Michael Eidenbenz, director of Zurich University of the Arts, who supported us in this project, and I would also like to extend special thanks to the professors at the Zurich University of Arts who participated in our concerts and projects – all was provided in the spirit of charity! As well as Mrs Liana Isakadze who, despite her tight schedule managed to participate in the concert and hold master classes for the Swiss students the day before the concert.
How did you reach your current level of success and acclaim?
I started playing the piano at 5 with the encouragement of my mother, Natalia Sikharulidze, who is a graduate pianist from St. Petersburg Conservatoire. When we moved from St. Petersburg to Tbilisi, I attended Dodo Tsintsadze's class at the Musical School for Gifted Children; who got me involved in an active piano and performing life. From the age of 6, I took part in festivals and annual concerts with chamber or symphonic orchestras all over Georgia, in Russia, Ukraine and later in Europe. Therefore, I was recognized by the press from a very young age. After graduation, I continued my studies with Manana Doijashvili at the Tbilisi State Conservatoire, got a bachelor's and master's degree, and from 2004 continued my studies at the Zurich University of the Arts in the class of Konstantin Sherbakov. Following this, I continued to live, work and perform my charitable activities in Zurich.
Tell us about your performance at the recent concert
Among other pieces I performed Prokofiev's First Sonata for Violin and Piano, in a duet with Mrs Liana Isakadze. Beethoven's Trio op.11 for piano, clarinet and cello, with fantastic musicians as Fabio di Casola and Thomas Grossenbacher. Widor's "Introduction and Rondo" for clarinet and piano, and Dvorak's Rondo for Cello and Piano.
You teach at Zurich Conservatoire, give master classes and are jury member at international competitions. What is your advice to talented Georgian pianists?
Study foreign languages and learn to be independent at an early age, in life as well as when working on their professional development. It is important to have the skills of self-organization and communication, to make acquaintances and network. Many talented students have wasted years because they believed they could build a musical career just by sitting at home and playing for 7-10 hours every day. However, if individuals are not sociable and independent, they rely entirely luck.
Maka Lomadze
08 December 2016 21:25