Shaburishvili's 'Guest' to be Featured at Aubagne Int'l Film Fest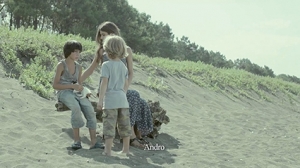 A new short film by Georgian filmmaker Nino Shaburishvili will be screened at a French international competition of film focusing on young cinema talent.
The Aubagne International Film Festival will run in the south of France from March 20-25 and is to feature Shaburishvili's 2016 work, Guest, in the short film category.
The films protagonist, ten-year-old Andro, lives in a village on the coast of the Black Sea where he sells hot boiled corn on the beach. One day, a French familly comes to the village and they invite him for dinner. The next day, Andro shares his lasting impressions of his interaction with the French family with his father.
Shaburishvili's film received the Prize of International Animation Film Festival TOFUZI at the 2016 Batumi International Art House Film Festival.
It was also screened among 400 submissions of the Aesthetica Short Film Festival in York (UK) last year and was featured in the Short Film Corner of the Cannes Film Festival in France.
Tbilisi-born film director Nino Shaburishvili has lived and worked in France since 2011. She graduated from Strasbourg University in Filmmaking last year.
The Aubagne International Film Festival supports young cinematographic creation and musical creation related to image. The Festival is also acknowledged as a place of training and an international center of meeting for young directors, scriptwriters, composers and sound designers. It stands among the Top 20 French film festivals in the National Center of Cinematography's listing.
Natia Liparteliani
12 January 2017 20:17