Georgian Book Corners to Open in Rome and Milan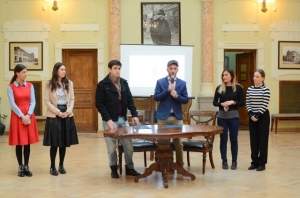 The Georgian National Library and the Inexphone Company signed a memorandum of cooperation last week, according to which Inteli Express and other companies under the United Financial Group Holding, Inex Group, Inex Travel, Inexphone, Diadema, and Giuaani are now participating in the Georgian National Library initiative to organize Georgian book corners abroad.
Inexphone and Inex Travel recently gave books which this week will be presented to new book corners in Rome and Milan.
"Our mission and ambition is to take the Georgian culture abroad. We've opened book corners in 25 countries already. We will now send the books to different parts of the world more easily, on the one hand helping immigrants and on the other showing the importance of our culture to foreigners," said Giorgi Kekelidze, Director of the National Library.
"Our activities are mostly linked with the Georgian diaspora. We try our best to give Georgians abroad the possibility to communicate actively and easily with their home country. Opening Georgian Book Corners in Rome and Milan is the first step in this direction, and we hope our cooperation will continue in the future," noted Rati Akhvlediani, United Financial Group representative.
17 February 2017 22:46