My Happy Family wins at Sofia International Film Festival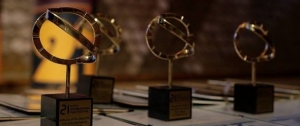 My Happy Family, a film by Nana Ekvtimishvili and Simon Gross, won the nomination for best directing at Sofia International Film Festival.
It's a story of an ordinary Georgian family, where a 52 year old mother and a wife, played by actress Ia Shugliashvili, decides to leave her family all of a sudden.
My Happy Family is the first Georgian film with international distribution rights acquired by Netflix--meaning it's available for international viewing in 130 countries worldwide. Before the Netflix premier the film will come to the cinema screens in Germany, France and Georgia.
Nana Ekvtimishvili's and Simon Gross's My Happy Family was featured at the New Directors, New Films 2017 Festival programme at MOMA New York this Tuesday, March 21.
23 March 2017 00:14