15th Tbilisi Fashion Week Shows Off Latest Trends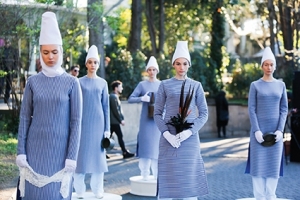 The 15th Tbilisi Fashion Week (TFW) lasted from April 19 to April 23. This year's season was opened at Wine Factory N1/Tbili Sio, where SOLO presented an exhibition and performance featuring famous Georgian actress and fashion icon Sopiko Chiaureli.
The 2017 TFW featured a mix of Georgian designers and newcomers who presented the latest trends in their collections. The festival included 21 events in total and was supported by the Ministry of Economy, Ministry of Culture and Tbilisi City Hall.
Guests saw the autumn/winter collections of Georgian designers Elenny, MIA, Laboratory the Window, Ethere Accesoire, Atelier 27, Marta, Giorgi Tatanashvili, and Likaforlika. Foreign designers and brands took part as well, including Lara Quint and Sayya (Ukraine), Zlatostudio (Russia), Soncess (Armenia), and ZDDZ (UK), presenting their collections in the Ernst & Young Tbilisi office on April 23.
This season also kicked off the project TALK, in collaboration with Marketer.ge.
The participants of the event took part in the Red Nose Day fundraiser. A Memorandum of Understanding was also signed with the Solidarity Fund, in order to encourage Georgian designers to become even more involved in charitable causes.
With the support of Georgia's National Tourism Administration (GNTA), Tbilisi Fashion Week 2017 was attended by a number of international media representatives including Vogue Italia, Elle Russia, L'Officiel Ukraine, and British Vogue, who were taken on tours of the sights and cultural monuments in the capital.
The Enterprise Development Agency hosted buyers Harvey Nichols Hong Kong, Rijoux Store Tel-Aviv, Concept Store Porta 9 Russia, Al Duca D'acosta Venice, United Legend Strasbourg, and Joseph Store London, in order to familiarize them with Georgian designers.
Prior to the opening of the TFW, a special showroom was opened in the main atrium of Tbilisi Mall, the general sponsor of Tbilisi Fashion Week. The showroom featured the collections of designers Salio Abuseridze, Moko, Mimosa, Shavdia, Art Salon Lika, Workshop Besiki 22, M.G.N.T. Style, No One, Co.Mode, Sopo Iosebidze, Atelier 27, Zedadan, Person, Atelier 22, Anishko, Avazaki, Makrateli, Lovoa, Medamoda, Lunda Story, Mamy Bag, Katrin, Lazeti and Levanto.
TFW is considered one of the main fashion events in the Caucasus, supporting the development of the local fashion industry, introducing new faces to the industry and promoting the export of Georgian fashion pieces abroad.
Thea Morrison
27 April 2017 18:56