Shakespeare Lives - English Language Competition for Teens in Gori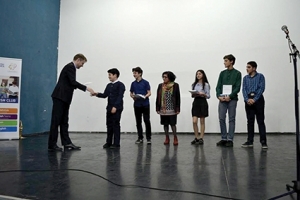 On May 9, in the central Georgian town of Gori, the final stage of the contest Shakespeare Lives took place at the local Center of Youth, Culture and Education. The event was organized on the basis of a memorandum signed between the British Council in Georgia and the center. The organizations aim to popularize the English language.
The representatives of the leading international organization of the British Embassy—the British Council, which works in 110 countries—said they are glad to be able to contribut to the spread of the English language in the Shida Kartli region, as it is important to teach languages beyond the capital.
The collaboration between the British Council and the Gori Center of Youth, Culture and Education entered a new stage, as children ages 8-18 are now able to attend English lessons free of charge. They will also be able to take advantage of using books, online and audio-visual materials at the resource center. The project also seeks to raise the qualification of local English-language teachers using Ceaseless Professional Development (CPD) trainings and seminars.
"The theme of the contest was Shakespeare. We found the works of pupils represented to us very interesting," said Zaza Purtseladze, British Council Director in Georgia, adding that he particularly admired the high level English of the competing pupils as well as their presentation skills.
"I'm very happy that my work was shortlisted for the final," said Khatia Amiridze, pupil of Gori Public School 8. "My topic was As You Like It. I'm also happy that society has a chance to get better aqcuainted with this play of Shakespeare, too."
As part of the project, the Gori public schools pupils prepared posters and TV news reports. The five best TV news reports were screened at the competition final. The panel of judges identified two winning groups of pupils according to the selection criteria. All the members of the winning groups were awarded with Lenovo Tablets while the teachers of the winning pupils were awarded with Ici Paris Gift cards. All participants were given certificates recognizing their participation.
A second contest final revealed the best theater posters. 15-17 year old pupils were asked to design a theater poster based on one of the Shakespeare plays and make an oral presentation in English about one of the main themes of the play. All the winners were handed prizes personally by the Ambassador of the United Kingdom of Great Britain and Northern Ireland to Georgia, H.E. Justin McKenzie Smith.
The project lasted three months and was part of a global program dedicated to the 400th year since Shakespeare's death. Over 140 countries took part in innovative theatrical and choreographic performances, movie screenings, exhibitions and school activities. The project aimed at increasing awareness of Shakespeare plays among pupils; improving pupils' knowledge of English; improving pupils' reading, speaking and listening skills in English; improving pupils' team-working skills and developing their critical thinking skills. The online resources created within the project are still available. You can learn more at: shakespearelives.org
Maka Lomadze
11 May 2017 18:32