Georgia Participates In Dubai International Tourism Exhibition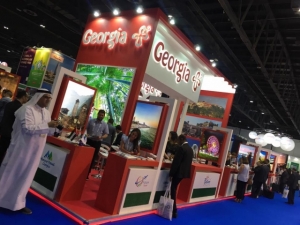 The National Tourism Administration of the Ministry of Economy and Sustainable Development participated in the International Tourism Exhibition-Fair in the United Arab Emirates. It is one of the largest exhibitions in the world.
The National Tourism Administration, the Adjara Department of Tourism and Resorts Department and 31 private companies participated in the event. These compaines icluded Start Travel, Captain Plus, Caucasus Travel, City Sightseeing Tbilisi, Concord Travel, Crowne Plaza, Eurolex Travel, Exotour, Voyage Tours, Free Spirit Tours, Future Travel, Gallery Palace, GDM, Georgian Discovery Tours, Georgian Travel Club, Georgian Travel Group, Info-Tbilisi Travel, Levon Travel Tbilisi, Marco Polo Hotel Gudauri, Meet in Georgia, Mimino Travel Georgia, Omnes Tour, Sheraton Metechi Palace Hotel, Sky Travel, the Tbilisi Marriott Hotel, Tourist Agency Visit Georgia Ltd, Elite Travel, TravelShop Georgia, Voyager and Wonder Infinity Tourism.
Participants of the exhibition were acquainted with Georgia's tourism destinations. Georgian national dancers performed folk dances at the Georgian stand over the four-day period. Georgian representatives also arranged a special lottery to reward winners with three hotel vouchers in different regions of Georgia.
Georgian Chiri (dried fruit) and three types of wine were on display at the stand. Representatives of Georgian tourist companies held B2B meetings with foreign colleagues as part of of the exhibition.
Thea Morrison
12 May 2017 11:31