Tbilisi Condemns 'Agreement' Between Russia and Breakaway Abkhazia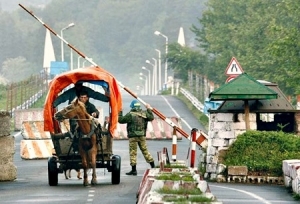 Official Tbilisi has condemned the signing of an agreement between the Russian Federation and Georgia's breakaway region of Abkhazia on "the rules of establishment and functioning of the joint information-coordination center of agencies for internal affairs," that took place on May 18.
Georgia's Ministry of Foreign Affairs (MFA) has released a statement, saying the agreement totally disregards the fundamental principles and norms of international law such as sovereignty, territorial integrity and inviolability of internationally recognized borders.
"The creation of a joint group of armed forces in Abkhazia region by the Russian Federation, followed by the merger of law enforcement and investigative bodies, which were envisaged by 2014 treaty on alliance and strategic partnership, represent a clear proof of the factual annexation process of the occupied region," the ministry stressed.
Tbilisi believes this is an intentional step taken by the Russian Federation to undermine peace policy of the Georgian Government, supported by international community.
"Such kinds of actions contribute to the destabilization of the situation in the region and harm the Geneva International Discussions," the statement added.
The Georgian MFA called on the international community to take effective measures aimed at de-occupation and prevention of annexation of Georgia's occupied regions.
The agreement between Russia and de facto Sokhumi was signed on Thursday by Abkhazia's de-facto interior minister Aslan Kobakhia and Russian Deputy Interior Minister Igor Zubov. As reported, the center aims to fight organized crime. Information exchange between Abkhazia and Russia's law enforcement agency is also addressed by the agreement.
By Thea Morrison
19 May 2017 10:36