Georgia's Museum of Ethnography Welcomes Rehabilitated Ossetian House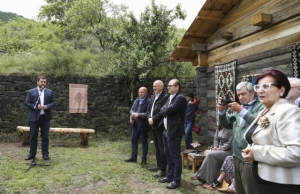 Georgia's Open Air Ethnography Museum visitors will be able to see rehabilitated Ossetian House from now.
The Ossetian house has been brought from the region of Java, South Ossetia in 1975.
The restoration and complex arrangement of the Ossetian house was financed from the reserve fund of the President of Georgia and the initiative aimed at preserving the memory of the Georgian and Ossetian peoples and the unity of the historical culture.
"Ossetian culture occupies a special place in Georgian history. Our Ossetian citizens, both from the Tskhinvali region and the rest of Georgia have very rich culture, so it is important that every citizen of Georgia has opportunity to see it, "said Giorgi Abashishvili, Head of the Presidential Administration at the opening ceremony
The Open Air Museum was founded on April 27, 1966 by the famous Georgian ethnographer Giorgi Chitaia.
It is located in Tbilisi's Vake district, to the west of Turtle Lake (Kus Tba in Georgian).
It occupies 52 hectares of land and houses more than eight thousand artifacts brought from all over Georgia.

The Open Air Museum encompasses 14 ethnographic zones: Kartli, Samegrelo, Adjara, Abkhazia, Svaneti, Khevsureti, Kakheti, Meskheti, Javakheti, Guria, Imereti, Racha, Lechkhumi and Ossetia. Each exhibit presents a certain historic-ethnographic area of Georgia.
Together with architectural monuments, the museum presents ethnographic materials - different kinds of tools, textiles, and ceramics.
The museum also includes the 5th-6th century basilica of Sioni, as well as a rich collection of grave stones.
Visitors can explore or enjoy guided tours around the museum. The museum provides a tranquil environment for visitors to experience Georgian folk exhibitions and festivals throughout the year, and has a quaint Georgian restaurant where the guests can enjoy the breathtaking view of Tbilisi.
Thea Morrison
22 May 2017 15:43