Tbilisi 10th International Student Film Festival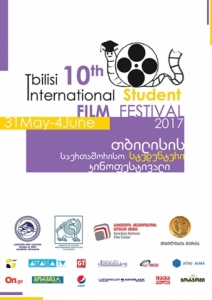 From May 31 to June 4, with the support of the Georgian Ministry of Culture and Monuments' Protection, Shota Rustaveli Theatre and Film Georgian State University will organize the Tbilisi International Student Film Festival for the 10th year. The event is supported by the Georgian National Film Center and Tbilisi City Hall. On May 31, the official opening will take place. The news of the festival will be available on the background of the set of soundtracks, created especially by a DJ for the occasion.
Also on this day, a film by the famous Georgian director Giorgi Ovashvili, entitled "Vagoneti" will be screened. On June 4, at 8 pm, the festival's award ceremony will include a live concert of Tbilisi City Hall's Big-Band. The award categories are as follows: best feature, documentary, and animated film. Special prizes and certificates will also be presented to specialties taught at world film schools. These include: directing, work of director of photography, editing and sound. 38 films from 19 countries including the USA, Germany, Argentina, Italy, China, France, Finland, Poland, Portugal, Russia, Spain, Brazil, Great Britain, Israel, Romania, South Africa, Slovakia, Belgium and Georgia are part of the program.
The judges of 2017 are as follows: Ashwini Malik, Indian film director, script writer and teacher; producer Eitan Evan, an active member of the Israeli Film Industry; Lithuanian producer Ramunas Pavilanskas; Iranian moviemaker and founder of Karname Institute of Art and Culture Alireza Soltani, board member Nino Kasradze, Georgian actress of theatre and film.
The schedule of the festival also includes master-classes with the judges on various topics: "RASA"- approach to cinematic storytelling; how to develop success stories; how to create remakes of films; actors working on camera and with directors; interactions between producers and novice directors. Besides master-classes, the film club of the University of Film and Theatre will screen all movies entered into the competition, with English sub-titles. Entrance will be free.
Address: Aghmashenebeli Avenue 40.
This year, the special guest will be Jerzy Rudjinski, a Polish cameraman and professor at Lodz Film School. He has worked with such famous directors as Krzysztof Kieslowski and Anrzej Wajda. The polish cameraman will hold a three-day workshop with Georgian students about the methodology of working with color and camera, among other topics. This year, the festival will be attended by writers and camera crew from almost 10 countries, which will boost relations between Georgian and foreign students, as well as meeting their potential future colleagues. The program of the festival also consists of other cultural events such as: Vladimer Sulakvelidze's exhibition "Chairs" on June 1 and the screening of the film "Kite"; on the occasion of the Children's Protection Day.
The International Student Festival "Amirani" was founded in the 1980s. The festival founded a number of renowned directors during their student years. The festival was restored in 2007. It has already ensured its position among the top international film festivals.
Maka Lomadze
25 May 2017 18:40