Art Gene: Presenting a True Feast of Georgian Culture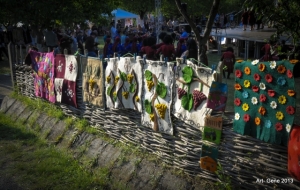 On July 19-26, the Art Gene Festival awaits Georgians and foreigners alike; Tbilisians and those from the regions, all of whom are invited to a special occasion that unites the whole country in a unique focus – Georgian traditions. It is often said that though Georgia is quite small in its territory and population, it is very diverse in its regions; in landscape, local people and character. All these diversities are reflected in the colorful expression of culture and arts as well. Art Gene, founded in 2004, has managed to raise interest among the Georgian youth who once only cared for modern music in folk culture. Many of them since decided to stay in the regions, which is a rare thing and a big business in the present epoch of urbanization, where they get better acquainted with unique musical polyphonic traditions and realize that it is their duty to continue and preserve these traditions.
In Tbilisi this energy can be best experienced at the Art Gene Festival which cumulates at the Ethnographic Museum down from Turtle Lake (Kustba).
The founders are the Georgian painters Tamriko Melikishvii and Giorgi Baramidze. "Tbilisi was just recovering from those 'hard days of 1990s'. Giorgi lived in Great Britain then. When he came, we thought that the country badly needed something new and interesting. We began to travel and collect singers. The majority of locals didn't even know the meaning of the word craft! In those days, Georgian youth only listened to modern music, but we set up a trick for them: we included modern bands in evening shows, and folk groups earlier, so they had to listen to both! Our greatest achievement was that folklore became fashionable!" Tamriko Melikishvili told Georgia Today.
"The main novelty is that this year our main topic is Library and Literacy. We signed a Memorandum with the Georgian National Library. It was symbolic that the festival was opened in famous Georgian writer Davit Kldiashvili's house museum in his village, Simoneti. Then, we continued in Surami with 5000 attendees, which shows how much those people miss such occasions in the regions," Solomon Gogashvili, presenter and co-organizer, told us. Reportedly, a lot of materials – films, videos, albums, magazines – have been collected within these years of the festival's existence and the Georgian National Library will take care that they are all preserved for those who wish to get acquainted, any time.
The main focus of Art-Gene is Georgian traditions – food, beverages, folk medicine, singing, dancing, crafts, eye-catching multicolored canvases, painting… The concerts of famous troupes such as the Sukhishvili National Ballet will whet the taste buds, followed by Zumba, Nino Katamadze, Robi Kukhianidze, Bakur Burduli, "Reggaeon" and, finally, 33a and Niaz Diasamidze; all in store for listeners as a delicious cultural dessert.
Art Gene will give you the sense that you have traveled around Georgia in terms of both material and spiritual cultural heritage, without ever leaving the capital city.
Maka Lomadze
20 July 2015 11:33