25th Anniversary of Bulgarian-Georgian Diplomatic Relations Marked by Exhibition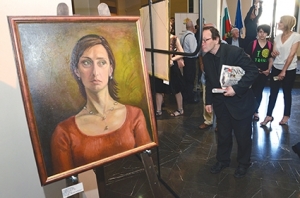 On June 5, on the occasion of the establishment of the anniversary of diplomatic relations with Georgia, the Bulgarian Embassy hosted the exhibition of two Bulgarian painters with Georgian roots or connections, and one Georgian artist, on the premises of the Georgian National Museum.
Dessislava Ivanova, Ambassador of Bulgaria to Georgia, opened the celebration: "Our diplomatic relations began on June 5, 1992, shortly after Georgia regained its independence. Our countries enjoy excellent bilateral relations and pursue an intensive dialogue, marked by friendship, trust and shared values and interests." She mentioned that both countries are proud of a rich and ancient history, focusing on the fact that "we have never fought against each other, but quite the contrary: our peoples have mutually contributed to each other's cultural and economic prosperity". In the ancient bilateral relations, the Petritsoni (Bachkovo) Monastery and San Stefano Treaty merited a special mention.
"We are pleased and honored to host this important event," said Davit Lortkipanidze, Director General of Georgian National Museum. "25 years of our connection is official but our contact goes back to the Middle Ages. In our archaeological exhibition, we have an exhibit on the legendary Kolkhis and I believe Kolkhis and Trakia were interconnected many years ago. So, I think we should celebrate not 25 years, but 2,500 years of relations. I am really pleased that, symbolically, we met at the museum and we met to present modern art. Art meets science and that makes culture".
The paintings of Marina Mavrova, a Bulgarian artist living in Georgia, Pavla Platonova, the youngest participant and partly of Georgian origin, and Vera Kikodze, Georgian painter – a trio of three women- were exhibited. Platonova has Georgian citizenship and was born in Minsk, but studied illustration in Bulgaria. She has traveled a lot, and this rich box of impressions is reflected on her works. Spectators had a chance to see her paintings of Georgia. "I am a quarter Georgian. The Bulgarian Embassy in Georgia was searching for Bulgarian painters with Georgian roots, and I found out about it. In some ways, Georgia and Bulgaria are similar and in some ways, different. These points are interesting for my work," the young painter said.
On January 1, the Embassy of the Republic of Bulgaria assumed the functions of a NATO Contact Point Embassy in Georgia for the second time. In 2018, Bulgaria will hold the rotating presidency of the EU. The Embassy of Bulgaria believes that these are additional and important opportunities to enhance bilateral relations and evidence of Bulgaria's firm support of Georgia's European and Euro-Atlantic perspective. Hope was expressed that visa liberalization will boost exchange in all fields of cooperation, including tourism.
It was also mentioned that Bulgaria is among the top ten trade partners of Georgia.
The occasion was capped with the screening of Bulgarian contemporary film "Judgment", which has received many international and national prizes, having been screened in Athens, Paris, USA, Tallinn, Haifa, Bulgaria and more.
WHERE: The Georgian National Museum, Rustaveli Street 3
Maka Lomadze
08 June 2017 19:43