US Vice-President Mike Pence Pays Official Visit to Georgia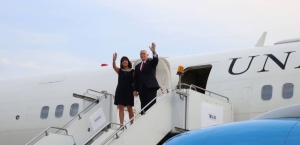 After paying an official visit to Estonia, the United States (US) Vice-President Mike Pence has arrived in Georgia to meet Georgian officials and the leaders of the opposition parties.
The US Vice President visited Georgia within the framework of an official European tour. During the visit, he will meet with the President of Georgia, the Prime Minister of Georgia, Catholicos-Patriarch Ilia II and participants of the Noble Partner 2017 military exercise.
Michael Richard Pence is an American politician, lawyer, and the 48th and current Vice President of the United States. He previously served as the 50th Governor of Indiana from 2013 to 2017.
Upon becoming Governor of Indiana in January 2013, Pence initiated the largest tax cut in Indiana's history, pushed for more funding for education initiatives, and continued to increase the state's budget surplus. Pence signed bills intended to restrict abortions, including one that prohibited abortions if the reason for the procedure was the fetus's race, gender, or disability.
On November 8, 2016, Pence was elected as Vice President after he dropped out of his gubernatorial re-election campaign in July to become the vice presidential running mate for Republican presidential nominee Donald Trump, who went on to win the presidential election.
Pence's plane landed in Tbilisi International Airport at 7pm. Georgian Prime Minister Giorgi Kvirikashvili and the US Ambassador to Georgia, Ian Kelly, welcomed Pence and his spouse. PM Kvirikashvili and Pence first met in the US this May, when the Georgian PM paid an official visit to Washington.
From the airport, the officials went to the Funicular Restaurant Complex in Mtatsminda District to enjoy an informal dinner. Official statements will be made tomorrow. It is expected that Pence will make some supportive statements of Georgia on behalf of the US Presidential Administration.
Georgiatoday.ge will offer its readers updates on further meetings and comments throughout the day tomorrow before VP Pence leaves Georgia at 4pm.
Thea Morrison
31 July 2017 21:15