Time is Powerless to Heal Longing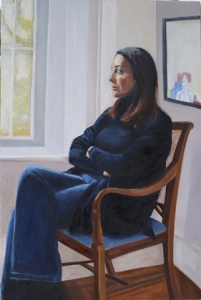 The works of Anna Steinhouse-Kandelaki immediately attracted my attention for the qualities that a modern artist needs in order to be able to assert herself in the world of art. Her works assured me that she has not reached figurative painting as a profession by chance and although her choosing to be an artist was delayed by twenty years, it seems to me to be a natural one.
Before becoming an artist, Anna dedicated her life to a radically different career - banking, although creativity was always in her nature. As a result, some four years ago, she made the decision to permanently quit her career in the City of London and to dedicate herself to figurative painting.
London's ample artistic scene has undoubtedly contributed to Anna's move towards her newly found passion. She frequented London's abundant galleries and museums, most of all enjoying the exhibitions of modern artists. The bustle of London's artistic world can be encouraging, but also confusing for newcomers. For some, it creates the illusion of quick success. There are numerous exhibitions held in London, but there are still very few that truly move the viewer.
Anna became interested in and influenced by the works of various British artists: Francis Bacon, Lucien Freud, Frank Auerbach, David Hockney. She started to study art at various London Art Schools, where an immense knowledge and experience has been accumulated and where any person seriously interested in art can get guidance and inspiration to develop their own work.
With her first exhibition at the graduate show at the Art Academy, this Georgian artist clearly showed herself to have used the experience and become a highly gifted artist. The five portraits that Anna presented were remarkable. Her works were successfully introduced to the wider public.
Nowadays, one can often hear that figurative art has exhausted its purpose. I disagree. Figurative painting is as inexhaustible a phenomenon as the soul and the inner world of a human being. For a sensitive and creative portrait artist, figurative art will always remain a contemporary and unexpired genre. At the same time, it is important for a figurative portrait artist to have technical skills and a precise visual memory. Anna Steinhouse-Kandelaki possesses both. In addition, being a deep thinker and an intellectual, she has unusual insights into the character of her subjects. She seems to find something interesting and unreachable in each individual, then depicts this on the canvas.
Anna named her series of portraits for the exhibition "Home Away From Home" and portrayed Georgians in London who have been living and working far from their homes for a long time, but who have never lost spiritual touch with their historic homeland. It is true that those people are physically very far from Georgia but the homeland is frequently present in their thoughts.
Self-assertion and adaptation of an adult person in a foreign country is like the re-planting of a grown tree in unfamiliar soil; it surely needs time to thrive again. But time is powerless to heal the longing that hangs above them like rain clouds. That is the instant that Anna seeks when painting a portrait and that is why she achieves such impressive results when it is done. She captures it perfectly.
"Teresa's Portrait" attracts the attention of viewers not only due to its accuracy but also due to its artistic courage. Anna manages to organically link the language of music and painting to each other in this work. Neat combinations of violet and amethyst and the inclusion of the view of The Muse, a sculptural masterpiece by well-known Georgian artist Merab Berdzenishvili, highlighted with a bright cobalt color in the right corner of the picture, creates a mysterious atmosphere where music is about to be born out of the painting.
The views of the Metekhi Temple, Vakhtang Gorgasali's statue and Georgian ornaments perfectly fit the portrait of Davit Gigauri, an outstanding young Georgian who has organized several events on Shota Rustaveli and his epic mediaeval poem, The Knight in the Panther Skin, in Oxford and London. Anna has precisely pointed to how suitably the subject carries the pride of his homeland.
The unusual composition of "Eka's Portrait" has a particular effect on viewers. This work reminded me of the picture by the popular photographer Irving Penn, "Human Being in the Corner," except that the Georgian painter has further intensified the feeling of being stuck. In my opinion, this portrait perfectly expresses the main theme of Anna's graduation theme, "Home Away From Home". It depicts the drama of "Double Absence" most powerfully – a feeling that is common for emigrants: being neither here nor there. The artist shows an incomplete view of a window (reality as seen by the model) and a framed landscape of the Georgian countryside (a piece of homeland) not as a whole, but split into two.
I have also seen other portraits at Anna Kandelaki's studio, which once again assured me that she really has significant abilities as a portraitist, and I am convinced that Anna will continue to grow in this direction. However, I have also seen several other highly impressive landscapes. I would particularly single out her work "Spring in Caucasus". I believe that with the artist's evidently intuitive sense of nature, she should further develop a body of work of landscape paintings.
Georgian galleries used to have a very rich collection of portrait paintings from the 19th and 20th centuries, but nowadays there are only a few artists who are seriously working in this genre. It seems as if the line was cut, and this is a serious loss for contemporary art in Georgia. Do we expect this genre to lose its significance and its revival not to be supported? I hope not. . .
Anna Steinhouse-Kandelaki's is the descendant of Nickoloz Kandelaki, a famous Georgian portrait sculptor. I considered it necessary to recall this, because when we look at Anna's work, we have a feeling that they belong to a skillful painter rather than to a beginner. It seems like she has never lost touch with art, despite those twenty years when she had practically no connection to painting.
She has been brave to return to the artistic calling, but she has revealed herself to be an intuitive portraitist whose art is never boring. The portraits talk to the viewer with infinite frankness and insight, about the mysterious beauty and strength of the human soul. They will surely always maintain urgency and relevance.
Anna Steinhouse-Kandelaki has a wonderful intention to create a gallery of Georgians working abroad, people who are ambassadors of free will around the world and who let the world know about "the scanty but not small nation," as George Leonidze called Georgia. Anna Steinhouse-Kandelaki's portraits lead us to expect that she will fulfill this project and create a valuable artistic chronicle of her generation.
George Laliashvili, Art Critic
10 August 2017 18:39