Saakashvili "Triumphantly" Returns to Ukraine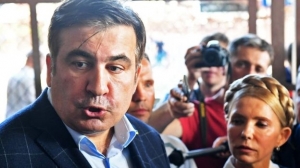 Former Georgian president and ex-governor of Ukraine's Odessa region, Mikheil Saakashvili has returned to Ukraine to reclaim his Ukrainian citizenship, which according to him, was illegally stripped from him by the President Petro Poroshenko on July 26.
Saakashvili crossed the Polish-Ukrainian border on September 10, with the help of his Ukrainian supporters, as he was denied to enter the country due to his allegedly invalid documents.
Late on Sunday, a group of Saakashvili's supporters broke through the line of security forces guarding the border and literally pulled Saakashvili from neutral territory between Poland and Ukraine onto Ukrainian territory.
Ukrainian officials say he entered illegally, and 16 border guards and National guardsmen were injured.
After crossing the border Saakashvili thanked his supporters, saying all of them were heroes.
"We had absolutely peaceful intentions. You saw how they provoked you. You saw how they incited the violence," Radio Free Europe/Radio Liberty quoted Saakashvili.
Yury Lutsenko, Prosecutor General of Ukraine said late on September 10 that participants and organizers of illegal border crossing in Shehyini will be held responsible.
"Fighting for power, Saakashvili's supporters are destroying the state…The law requires bringing those who organized the illegal border crossing, led these actions, or promoted them...to criminal accountability," he stated.
Meanwhile, Ukraine's Interior Minister Arsen Avakov says that Mikheil Saakashvili should fill the form of the border-crossing fact at the Shehyini checkpoint or immigration service. He says all participants of the breakthrough process must appear at police department.

Avakov added that he prohibited border guards and police officers to use weapon at the cross-point.
The Lviv police started an investigation into the border breakthrough fact. The information was posted on the Ukrainian police website. The statement reads that the violators face from 5 to 8 years in prison.
Saakashvili was the third president of Georgia between 2004-2007 and again in 2008-2013.
Poroshenko granted Saakashvili Ukrainian citizenship in May 2015, when appointing him as the Governor of Odessa.

In December 2015, Georgian authorities stripped Saakashvili of Georgian citizenship as dual citizenship is not allowed in Georgia.

In November 2016, Saakashvili quit his post and formed an opposition party and was seen heavily criticizing the Ukrainian authorities, which led to a disagreement between Poroshenko and the ex-Georgian President. Poroshenko stripped Saakashvili of his Ukrainian citizenship in July.
The State Migration Service has said that Saakashvili had submitted incorrect information when he applied for citizenship in 2015. He said that he was not under investigation in Ukraine or abroad, while in fact he was being investigated in Georgia for various charges.
Saakashvili claims the President of Ukraine wants to get rid of a political opponent, adding it was illegal to strip him of his Ukrainian citizenship.
The man without a country also denies charges raised against him in Georgia.
Last week Georgia's Prosecutor General's Office has sent the third request to the Ukrainian Justice Ministry and the Prosecutor's Office, asking them to detain and extradite ex-president to Georgia, when he entered Ukraine.
Sergiy Petukhov, Deputy Justice Minister stated last week that according to Georgian prosecutor general's office, Saakashvili is accused of abuse of power, committed by violence or use of weapons, deliberate infliction of grievous harm to health and abuse of office.
By Thea Morrison
Photo source: AFP
Related articles:
11 September 2017 12:51