Opposition UNM Moves to Protest Regime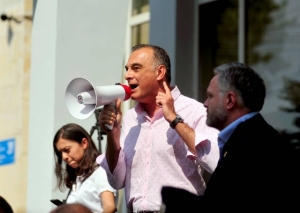 Georgia's main opposition party the United National Movement (UNM) is moving to protest regime before the upcoming October 21 elections.
The decision was made after the party's October 2 rally, which resulted in clashes between the protesters and the police officers, and left several activists detained.
The UNM held the rally due to the City Council's September 29 decision, after which two land plots 1,900 and 4,700 square meters in size will be transferred to a company for a symbolic price - one Gel and a large car park and a recreational complex will be built there.
The opposition claims the company belongs to the tycoon Bidzina Ivanishvili, who is the founder of the Ruling Georgian Dream party and ex-Prime minister of Georgia.
The UNM stressed that the decision made by the City Council was an illegal deal and it aims to transfer half of Tbilisi to Bidzina Ivanishvili.
The car park will be constructed near Freedom Square, while the multifunctional recreational center will be located on mount Tabori, overseeing Tbilisi and adjacent to the botanical garden, which is near Ivanishvili's palace in Mtatsminda district.
The UNM's Tbilisi Mayoral Candidate Zaal Udumashvili says the City Council has to remove the two projects from the agenda.
"Our six members have been detained at the rally. Two of them are now in hospital because they were physically assaulted by the law enforcers. The UNM moves to the protest regime, which means that we will use all the legal means to prevent execution of these two projects," Udumashvili stated late on Monday.
Georgia's Ministry of Internal Affairs (MIA) has also released a statement regarding the UNM rally, saying 6 persons have been detained outside Tbilisi City Hall.
MIA added the protesters were detained under Articles 166 and 173 of the Code of Administrative Offenses.
"On October 2, at the unauthorized rally held outside Tbilisi City Hall, a mayoral candidate of one of the political parties and his supporters tried to violently invade the administrative building of the City Hall," the MIA reports.
The ministry said the law enforcers acted in full compliance with the requirements of the law, repeatedly called on violators to keep order and free the road, but the protesters did not obey the legal requirements of the police and resisted the law enforcers.
Tbilisi City Hall issued photos of the rally, saying the protesters damaged nearby railings and newly planted trees in the yard.
By Thea Morrison
Related story
Opposition Parties Call for Rallies after City Council Passes Two Resolutions
03 October 2017 00:52