Textile from Georgia - New Album on Georgian Costume Published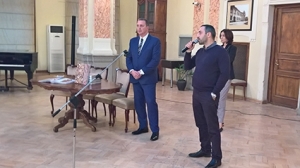 Textile from Georgia is a new 400-page bilingual (Georgian-English) album, published on the initiative of Art Palace, (Museum of Theater, Music, Chorography and Cinema) with the support of the Ministry of Culture and Monument Protection of Georgia (MoC), featuring over 200 frescoes and more than 300 textile examples, including Byzantine textiles from Svaneti of the VIII -XI centuries.
The publication introduces the history of textile from Georgia, from VII up to the beginning of the XX centuries, displaying clothing reproduced from that worn by Georgian noble men and Georgian kings throughout the centuries. For the first time, we can see, in bold color, the costumes of Georgian kings David Agmashenebeli (David the Builder), Queen Tamar, and George III
Aside from a historic textile and costume overview, the album also presents textile samples reconstructed from Georgian church and monastery frescoes, brought to life from ancient manuscripts and the walls of Georgian places of worship. These have been restored on the highest quality silk material by textile artist Ekaterine Geguchadze. The album also showcases textile kept in the Art Palace fund, the Georgian National Museum and in private collections throughout the country.
The team, made up of Giorgi Kalandia, Director of the Art Palace; Irine Saganelidze, Department Head of Art and Theater at the MoC; Irakli Zambakhidze, designer and graphic concept author; Guliko Kvantitdze, Scientific Editor; Katie Davies, English Editor; and many others, spent over six months preparing the 'Textile from Georgia' album.
"This is the very first attempt to make a visual encyclopedia of textile from Georgia," Kalandia said at the launch on Monday. "It was a unique process as, together with our experienced textile specialist Ekaterine Geguchadze, and with the participation of Eka Javakhishvili and Bachana Chanturia, from the National Costume House, we managed to restore textile examples from the frescoes of almost all churches and monasteries in Georgia".
After copying the patterns from the clothing displayed in frescoes and manuscripts, the details were made into sketches and put onto textile and then photographed for compilation in the album.
"But the album presents not only restored textile examples; it also displays the photos of the original costumes kept in our museums and the frescoes on the walls of our churches," Kalandia added.
"This is one of the many projects we've worked on in partnership with Art Palace, and yet it's one of the most important ones," said Mikheil Giorgadze, Minister of Culture. "This is by far one of the best examples of how our extensive cultural heritage can be promoted and transformed into a modern application. This is not just a high-quality album, it is already a cultural asset".
Nino Gugunishvili
05 October 2017 17:45