530 Journalists Killed Worldwide in 2012-2016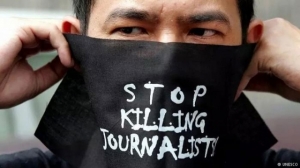 From 2012-2016, 530 journalists were killed worldwide while doing their job, and since 2006 – 930, the United nations Office on Drugs and Crime (UNODC) reports.
The UNODC also says that 92% of the journalists killed were local. 93% of them were man.
The report says that in nine out of ten cases the perpetrators of these crimes escaped punishment.
In the past 5 years, 530 journalists were killed while doing their job.
Only 1 in 10 cases has led to a conviction. Let's #EndImpunity! pic.twitter.com/7UQ3SuyXlZ

— UNODC (@UNODC) November 2, 2017
As for the data for this year, according to the Non-Governmental Organization (NGO) Reporters Without Borders, in the ten months since the beginning of 2017, 47 members of the media have been killed and 176 have been imprisoned.
November 2 proclaimed to be the international day to end impunity for crimes against journalists by the UN General Assembly resolution in 2013. The date was chosen in memory of two French radio journalists killed in Mali on 2 November 2013.
Over the course of 2016, a record number of 13 journalists were killed in Afghanistan.
By Thea Morrison
Photo source: UNESCO
03 November 2017 09:38