President Margvelashvili: Our Main Goal Is Unification of Georgia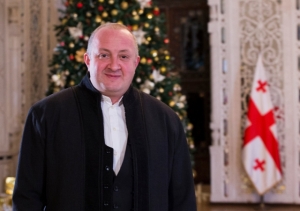 Georgian President Giorgi Margvelashvili says the main aim of 2018 year is to unite the country and join with Abkhazian and Ossetian people, locals from Georgia's two Russian-backed breakaway regions.
"In order to achieve this goal, we need to understand all the challenges and unite," the president stated and congratulated the population with the New Year from the Youth Palace, where Georgia was announced as a republic 100 years ago.
"We should unite with our Ossetian and Abkhazian brothers," he added.
In his speech Margvelashvili underlined the importance of education, saying it is the key to achieving all the goals "because good education system will give stronger generations. "
The president also reminded that he declared 2018 as the year of freedom, adding creating free and united country has always been of utmost importance for Georgians.
By Thea Morrison
02 January 2018 00:00