Georgian President Vetoes Amendments to Broadcasting Law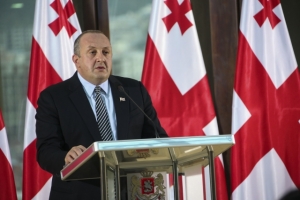 Georgian President Giorgi Margvelashvili has vetoed the changes to the Law on Broadcasting, adopted by the parliament in late December 2017.
The amendments give state-financed Georgian Public Broadcaster (GPB) more independency and power and also right of commercial advertising.
Also, the broadcaster will no longer have to announce public procurement calls when purchasing media products or services, as it has been lifted from its obligation to observe the Law on Public Procurement.
Furthermore, as a result of the amendments, the powers of the nine-member Board of Trustees have been reduced, now they will need the Director General's consent to carry out reforms.
The GPB, whose financing increases proportionally to the state budget, will no longer have to return unused funds to the state budget. It has also been given the right to finance start-ups and innovative television, radio and online products.
Last year, the broadcaster received around 46.4 million GEL from the state, while in 2016, it was financed by 44.5 million. In 2018, the funding of the GPB has increased by 5.695 million GEL and will amount to 52.100 million GEL.
While declaring his decision to veto the amendments, Margvelashvili stated he has attached two main motivated remarks to the bill, and sent it back to the parliament for re-consideration.
The Presidential remarks refer to the GPB right of commercial advertising, also to the issue of state procurements.
Margvelashvili expressed hope that the parliamentary Georgian Dream (GD) majority would take his remarks into account.
"I hope that the Parliament will make a decision in favor of media pluralism and healthy competition, as well as ensuring the transparent and reasonable spending of state funds," he stated.
The Speaker of Parliament Irakli Kobakhidze said the veto is the President's right, adding the parliament would discuss Margvelashvili's remarks.
Kobakhidze explained the main problem is that the Public Broadcaster has a lot of funding but a low rating, adding the amendments are aimed at increasing its rating.
The opposition, private media outlets and NGOs disapproved the changes to the Law on Broadcasting from the beginning, saying granting advertising rights to the GPB will harm the media environment in the country, and the broadcaster should no longer receive funding from the state budget after the amendments.
The Georgian Dream has 116 MPs in a 150-member legislative body. In order to overcome the presidential veto, the votes of at least 76 MPs are needed.
By Thea Morrison
16 January 2018 00:49