Georgia's 'Crown Jewel' in Chess Celebrates her 57th Birthday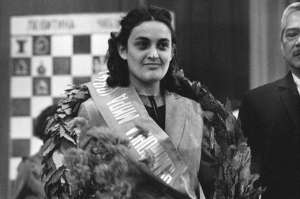 Maia Chiburdanidze's incredible achievements and outstanding talent shaped her to become the 6th World Chess Champion. On this occasion, let us refresh your memory about her pathway to success.
Maia was taught chess by her elder brother. One year later, she managed to beat her mentor and parents, and then made a decision to enrol in a chess club. Thus, the eight-year-old natural embarked upon the path of chess-success.
Two years had not passed when the wonder-kid got her first win in a contest among school children. Two years later, when she celebrated her 12th birthday, the girl was invited to play against Yugoslavia within the USSR's national chess team.
From year to year, the Georgian master-mind made her way winning tournaments of various levels. Notably, according to Stakers.com, Maia 'set the world on fire', when she was honoured to participate in the match for the World Crown at the age of 17. The opponent of that competition was fellow Georgian Gaprindashvili, who had held the World Champion title for 16 years at the time.
The match was held near the Black Sea shore, in Pizunda. Maia defeated her opponent with a final score of 8,5:6,5. Alas, a new star in the world of chess appeared on the horizon.
In 1978, Maia went in for her first World Chess Olympiad, within the USSR's national team. Maia, along with her teammates, left zero opportunity to her opponents. Yet, this was just the start. The following four Chess Olympiads were successful for the USSR women's national team, with exceptionally professional Chiburdanidze at the helm.
After the fall of Soviet Union, Maia played for Georgia, which gained her another four wins in the Olympiad. With her last record set in 2008, Chiburdanidze decided to leave the national team. Whether it was fortuity or not, the national team has not ever managed to win since. Stakers.com reveals that the only prize received was a third-place bronze in 2010.
Maia Chiburdanidze retired from her chess career a long time ago. Now, she lives, alone not far from Tbilisi in her own house, where she tends to her garden. According to her own story, the solitude is just what Chiburdanidze needs right now.
By Arthur Andreev
24 January 2018 16:50