NGOs Hold Rally in Solidarity to Actor Imprisoned for Possessing Drugs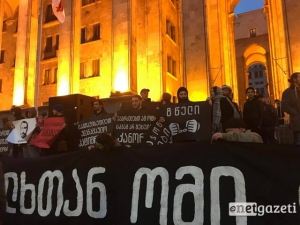 Non-Governmental Organizations (NGOs), ordinary citizens and Georgian celebrities held a large-scale protest rally in solidarity to Giorgi Giorganashvili, a Georgian actor who was three days ago imprisoned for 8 years for possessing drugs.
The protesters gathered at the old parliament building on Rustaveli Avenue, holding banners: "End the war with people" and "Put an end to planting drugs".
The organizers of the rally once again expressed their demands and protested against the imprisonment of Giorgi Giorganashvili, stressing he is the victim of existing "harsh" drug policy. They also asked for punishment of the law enforcers who are allegedly suspected of planting drugs.
The protesters called on the government to adopt the already initiated draft drug policy, which abolishes imprisonment of people for personal consumption or possession of drugs.
One of the organizers of the rally, the White Noise Movement, says the protests will last until a new drug policy is adopted and Giorganashvili is released from prison. They added the drug policy should be transferred from a punitive to a caring one, which implies the creation of special services for drug addicts for their rehabilitation and re-socialization.
Giorgi Giorganashvili was sentenced to 8 years in prison by Tbilisi City Court on January 23.
The actor was found guilty of the purchase and possession of a "large amount of drugs." Giorganashvili had pleaded innocent and claims police planted the drugs on him.
The statement released by the Prosecutor's Office of Georgia (POG) reads that on January 24, 2017 the police stopped the ambulance car on Tbilisi-Senaki-Leselidze Highway and found 22 pills of drugs, containing Buprenorphine in large quantities. Also the MIA found 843 pills and pieces of 2 pills in a medical inventory box, placed in the ambulance car.
The POG said the car driver decided to cooperate with the investigation and admitted the drugs were given to him by Giorgi Giorganashvili on the territory of Turkey.
The statement says that on January 25, 2017 MIA stopped Giorganashvili, who was coming to Tbilisi from Batumi and found 45 pills and pieces of 4 pills, containing Buprenorphine during his personal search.
The actor says he is innocent and accuses the police of planting drugs on him. He also assures he is not linked with the driver of the ambulance car.
By Thea Morrison
Photo source: Netgazeti
26 January 2018 09:01