Georgian Parliament Chairperson on US Visit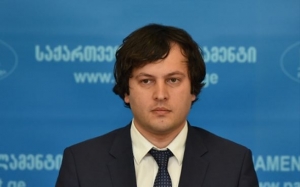 Irakli Kobakhidze, Chairperson of the Georgian Parliament, commenced his visit to US today. Kobakhidze will be meeting with Daniel Twinining, International Republican Institute (IRI) President, experts of the German Marshall Fund of the United States (GMF), and Mary Mazanec, Director of Congressional Research Service.
Kobakhidze is also meeting with Elisabeth Millard, Principal Deputy Assistant Secretary, Bureau of European and Eurasian Affairs, Member of Congress Paul Ryan, Congressman Ted Poe and Congressman Peter Roskam. Meetings are also planned with the Senate and Congress representatives.
Irakli Kobakhidze's visit to US ends on February 10.
By Nino Gugunishvili
05 February 2018 14:49